Hot On Top
The Team Insight Headwear Vendor Roundtable talks caps with three suppliers.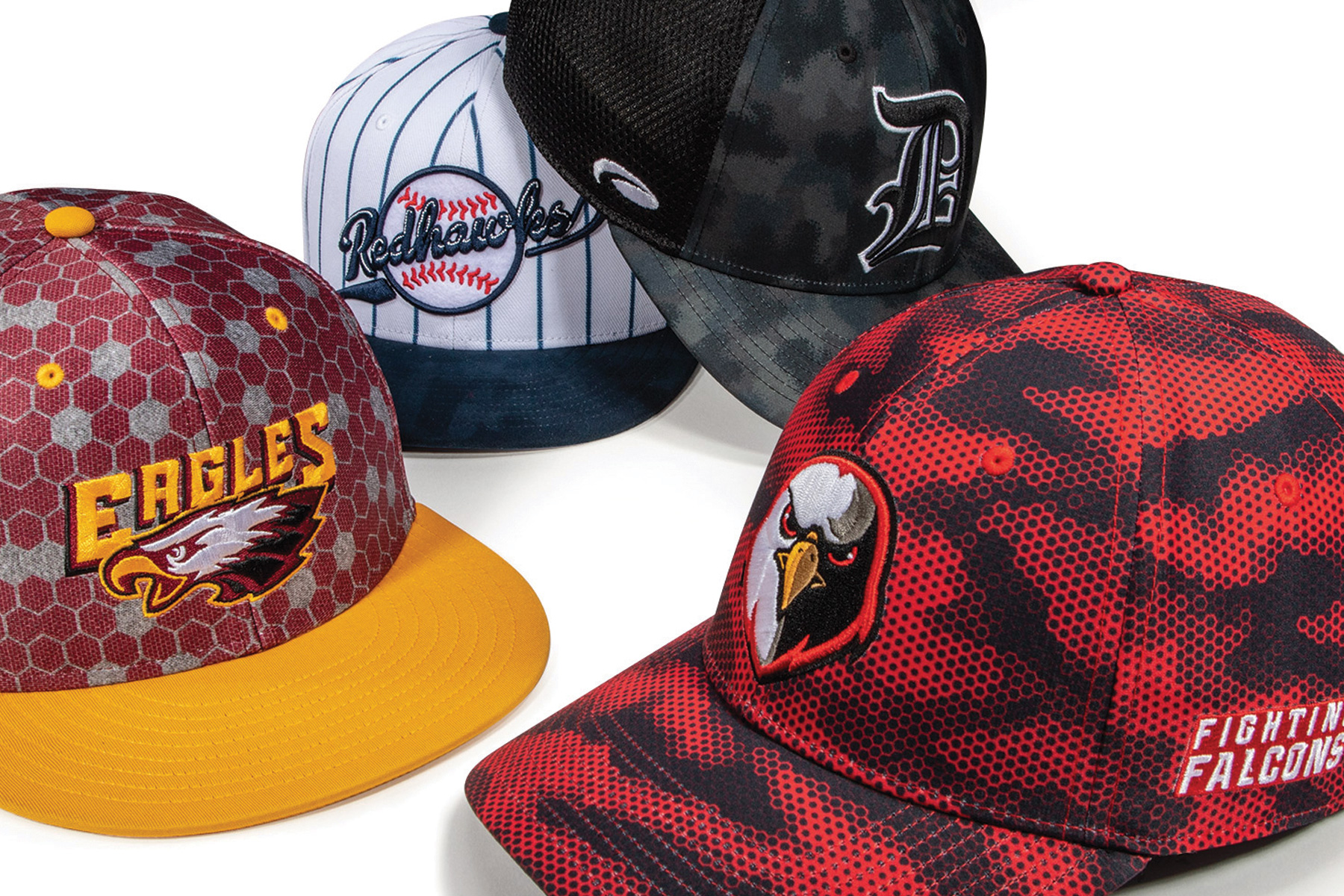 At The Table
Kelly Richardson, President, Richardson Cap
Chad Kennedy, National Sales Manager, The Game
Mike Hiskey, Creative Director, Pukka
Let's start with an easy one. What is driving the team headwear business in 2019 and into 2020?

Kelly Richardson: Quality, fit and speed of delivery are the most important things for both teams and dealers. The team market wants a high-quality, customizable product — and they want it fast and will go where they get both.
Chad Kennedy: In our business we are seeing speed-to-market as an increasing need. From a product standard, performance fabrics are still king, with a bigger emphasis on perforated fabrics for enhanced breathability and performance.
Mike Hiskey: Customization.
What are teams looking for in their caps in terms of looks, performance, technology?

Kennedy: Performance has been and will continue to be the driving force for years to come. This has now evolved into perforation within performance fabrics. A large percent of our baseball business is now done with perforation. The enhanced breathability and performance has really increased the functionality of performance fabrics.
Hiskey: Performance is the key — fabrics with UV protection, breathability and moisture wicking continue to lead the charge in headwear.
Richardson: New decoration applications such as our Poly Press and Silicon transfers are gaining momentum. They provide a very technical look with good detail and the colors are amazing. Lightweight performance fabrics are very popular. The consumer is always looking for easier ways to design and order their team caps, so an easy-to-use online product designer is very important to the dealer and consumer.
What are the fashion trends in headwear?

Hiskey: Lifestyle elements continue to work their way on to the field — high crown hats and flat visors are becoming more the norm.
Kennedy: Again, it goes to perforation but also to a multitude of options in performance fabrics, whether that is in weight, breathability and/or UV protection.  This past year we also released our most technical performance fabric to date in our new Brrr self cooling fabric.
Richardson: Today's headwear fashion is driven by the styles and edgy decoration treatments you're seeing at retail, such as patches, appliqués and transfers. And we're starting to see more of this look in the team market.
Everyone wants it faster.  Simplifying the customization part and using technology for designing and placing orders is key to delivering a custom made cap faster.
What are the different demands for baseball and softball caps?

Kennedy: Customers want variety and our goal is to give that to them. Baseball is one of the most traditional sports there is, but we are seeing our customers want to really push the envelope when it comes to cool new, innovative fabrics and performance silhouettes. The demand is the same for softball. While we are seeing less of visors being worn on field, when softball teams order they want the same variety that we offer baseball in performance and breathability.
Richardson: Women's softball is still dominated by visors and bands. But in men's softball we're seeing a little more street-style caps with alternate decoration methods. Baseball remains more traditional with Mid Pro shapes and direct embroidery.
Hiskey: Both are performance driven, with lighter weight fabrics with stretch and perforation. Baseball is still driven by Stretch Fit silhouettes, while softball holds strong with visors.
Where does the cap sale come in when a dealer is getting the uniform order?

Hiskey: Because of the customization component the hat sale is no longer an afterthought, but a hand-in-hand conversation when discussing the uniform and what choices are available to match home, away, fan and any other options.
Kennedy: A good sales rep will work his entire head-to-toe uniform orders at the same time. By doing it early and all together it will help in delivering the complete package on time and possibly allow the ability take advantage of early-order incentives.
Richardson: Often times the cap sale is at the end of the transaction to match the uniform and complete the package. But the cap has become a more piece of the package and making sure the cap and uniform match is critical.

Are online team stores a big part of the cap business now? How do you see dealers approaching this?

Richardson: It's getting bigger, but custom caps are a little more challenging for dealers to sell through an online store than apparel. We're working to create custom headwear packages that work for online team stores.
Kennedy: Initially I think caps were not thought of as much when team stores began to really take off. Now dealers are seeing the opportunities that caps provide. Not only are the low minimums easier to reach, but it also gives a better price point then a lot of apparel items.
Hiskey: Online team stores are a huge part. Dealers that can properly plan and manage this portion of their business are seeing great success.
Any advice to team dealers on how to sell even more caps?

Kennedy: Don't be afraid to think outside the box and make sure to learn the product. Dealers have great relationships with their coaches. Use that relationship to educate them on all the options available and that will generate ideas and excitement in ordering more caps. Also, get in front of them early to capitalize on early-order incentives and programs.
Richardson: Many teams use more than one set of caps during the season, so make sure you offer a second set when they purchase their uniforms. And suggest they buy a few extra for the kid that losses his or for that added player.
Hiskey: Our hat customizer has really helped dealers show their customers what their hat will look like, changing fabrics and colors in real time. This tool has gotten rid of the guess work and allowed them to better manage their appointents and sales strategies.
Is there are growing demand for quicker turnaround? If so, how is your company addressing this?

Richardson: Everyone wants it faster. Simplifying the customization part and using technology for designing and placing orders is key to delivering a custom made cap faster.
Kennedy: Yes, definitely. In the past year we have started utilizing more of our production capacity in our New York facility. In addition, we have updated all our embroidery machines in our Alabama facility. Quick turnaround on stock items is the fastest growing part of our business. With that we have almost doubled our domestic embroidery capacity in the last year to handle this demand.
Hiskey: Always. Unfortunately, with a quicker turn you are going to sacrifice price or quality.
Finally, where is the cap market headed in 2020 and beyond in terms of looks, technology and demand?

Hiskey: Technology will continue to drive demand and Pukka is set up for growth well into 2020 and beyond.
Richardson: Baseball players are still pretty traditional when it comes to style, so we don't see much change happening in the shape and look of on-field caps. But lighter, more performance fabrics and new decoration techniques will continue to grow in popularity. Technology and making the ordering process easier for the dealer will be a big focus of ours in the coming year.
Kennedy: Customization will continue to be at the forefront, with innovative new performance fabrics and headwear applications. Technology such as Build A Caps and user-friendly ordering software are going to be very important. Ease-of-ordering and speed-to-market are areas of extreme focus for us as we look ahead to the future.