Brace Yourself
Two different types of braces for team sport athletes combine technology and style for 2019.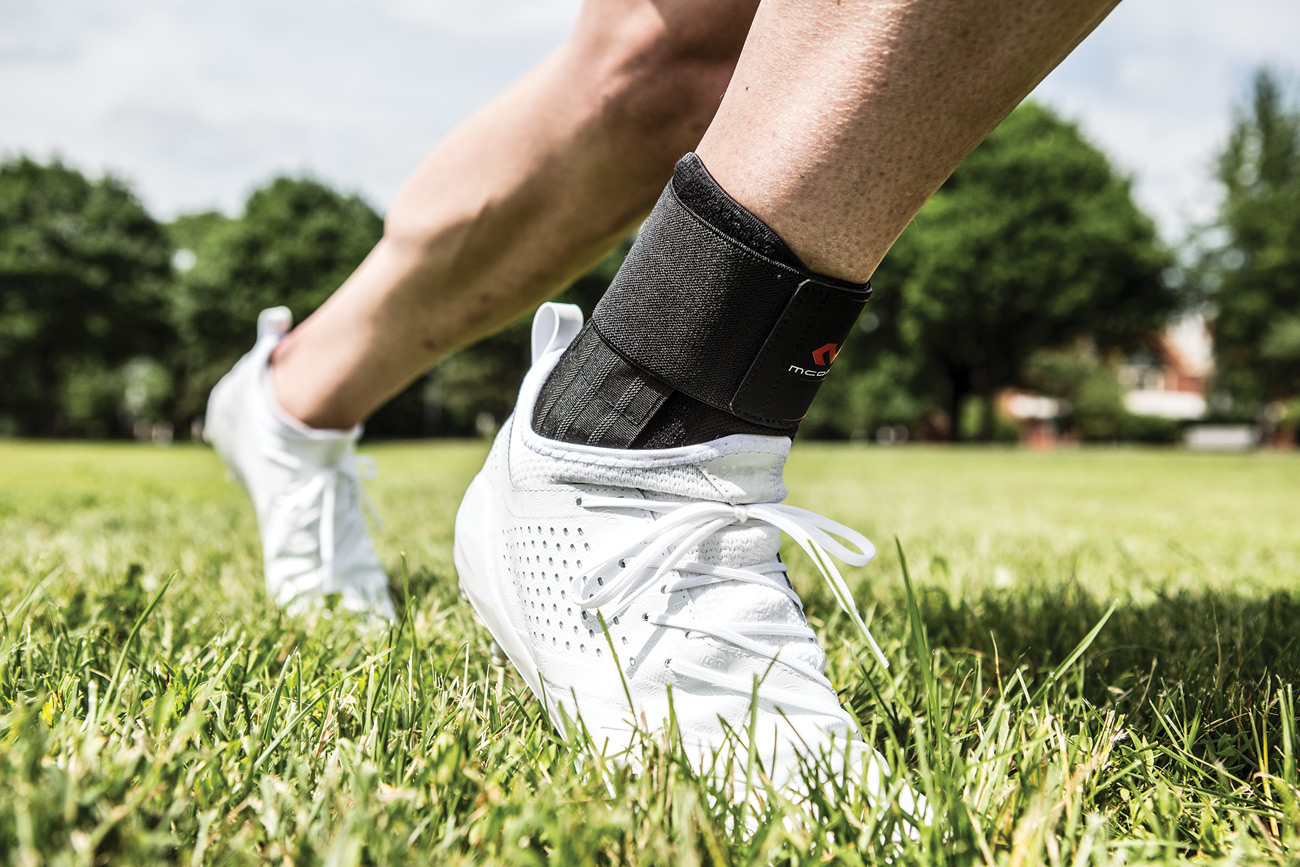 McDavid Goes Stealth
The McDavid Stealth Cleat Ankle Brace is the next step in braces for athletes seeking advanced stability and support in tight-fitting cleats and athletic shoes. Available in July (MSRP: $34.99), its ultra-streamlined design makes it 40 percent lighter than a traditional brace and the step-through rear entry and thin-wrap compression top strap instantly make it a leader in comfort, convenience and fit along with tremendous support.
True to its name, the Stealth is the lowest profile ankle brace in the McDavid portfolio and is designed for football, soccer and baseball athletes.
"Innovation is the driving force of this category. After all, although injuries don't evolve, the solutions we develop to treat them must," says Candi Whitsel, VP-marketing at United Sports Brands, the parent company of McDavid. "Our products are founded in years of testing and research with athletes, trainers and medical professionals from leading professional and collegiate sports teams — something we proudly continue today."
As the marketplace becomes more fragmented with direct online and field sales, dealers and retailers must overcome the advantages these channels bring to consumers by working to best understand how to reach and effectively engage with team and end-user targets, Whitsel adds.
"The ability to have live, in-person relationships with consumers is an advantage online retailers don't have and these dealers can always capitalize on those higher-touch interactions with the right lines of communication."
Materials and structures continue advancing to where the amount of support can be amplified without having to add bulk to a product, allowing McDavid to create products such as the new Phantom and Stealth ankle braces, which offer support in designs that are more than 30 percent lighter than traditional braces and are much better suited to today's lower profile court shoes and cleats.
"The general direction is lighter, stronger and, of course, better," Whitsel says of the brace market, adding that "education, education, education" is the key to dealers being able to sell the category.
The Bionic DJO
DJO Consumer's updated DonJoy Performance Bionic Elbow Brace II delivers exactly what you would expect from a product with "bionic" in its name. Improved features from the original Bionic Elbow include an adjustable elbow brace with dual hinges for medial/lateral ligament support. Limiting the range of motion, the Elbow Brace II can help manage elbow hyperextension and elbow instability while helping to protect the medial/lateral ligament.
This elbow brace is constructed with perforated neoprene for breathability when in motion and quick, adjustable straps help to limit extension and provide a secure fit when on or off the field.
"Braces and supports play an important role for team sports and both team dealers and retailers should be advocates and proponents of bracing and supports, as well as educators of injury prevention and protection," says Charlie Setzler, DJO Consumer VP–consumer bracing. "They speak to the coaches, athletic trainers, athletes or team on a regular basis, providing the opportunity to remind and reinforce the value and importance of prevention and protection."
More than 30 million young athletes in America – who account for 40 percent of sport-related injuries – means there are a lot of injured athletes. "Prevention and protection are key to reducing injury and an athlete is more valuable on the field than on the bench with an injury," Setzler points out, not forgetting to mention that Tom Brady wears DonJoy knee braces in every practice and every game — and the last game he missed due to injury was in 2008.
The challenge for team dealers is that a brace is a "need" item versus a "want" item — it isn't desirable or aspirational like shoes or mandatory equipment like a bat or football helmet.  
"We have the data, resources and assets to help dealers and retailers educate and communicate the importance of braces and supports," Setzler adds. "Educate your team and know the product. Be familiar with your sports and the common injuries and conditions associated with these sports. The more familiar you are with these conditions and products, the more capable you will be to speak and educate your customers."