Bullish on the Sock Market
These aren't your father's team socks any more as dealers look to upgrade the category.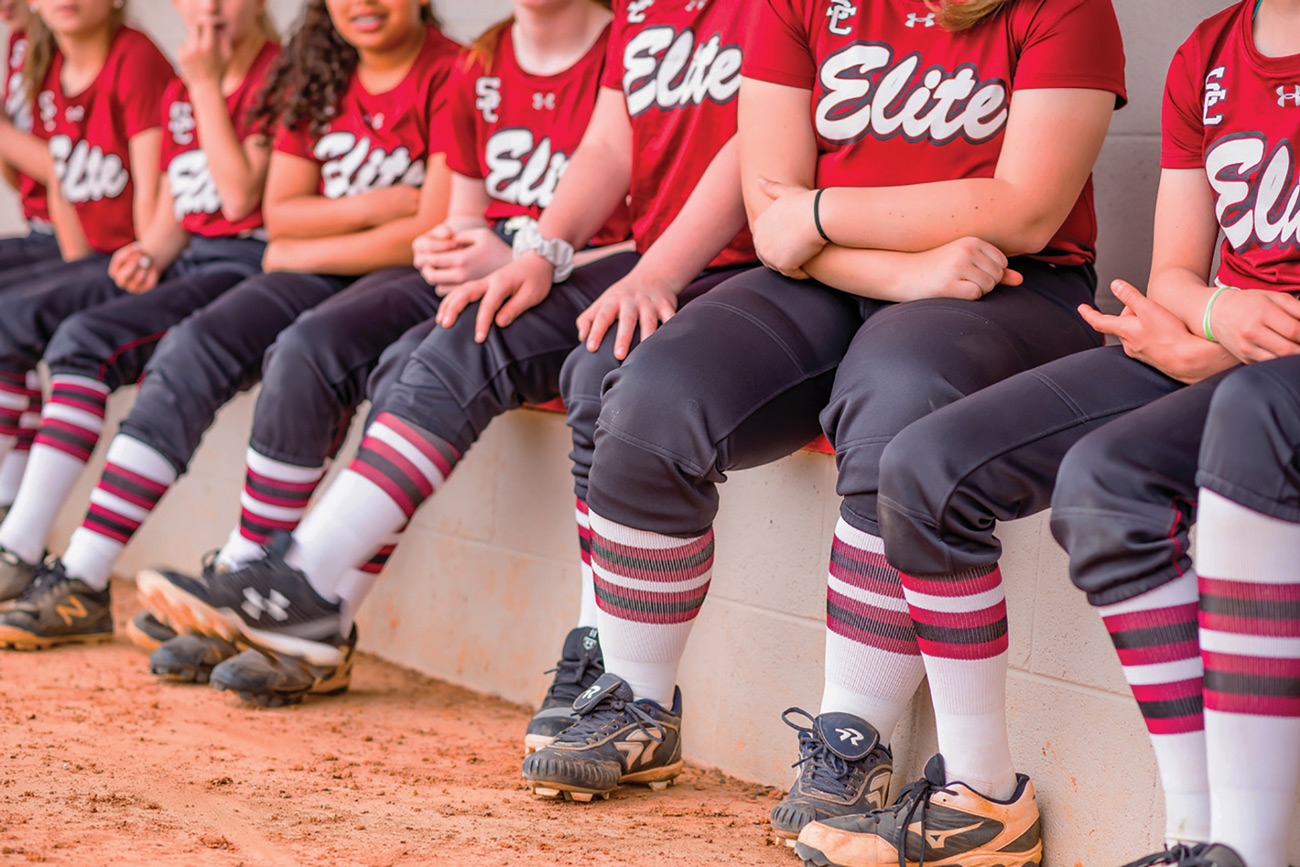 New socks are a harbinger of every sport season. There's something about the understated appeal of pulling on new socks – along with a new uniform, of course — and anticipating that first game. It has been that way for generations — only today's socks are much, much different than those worn by athletes on past opening days.
For most teams, solid color multi-sport socks lead the way. Moisture wicking, well fitting and odor absorbing, these athletic socks a certainly far cry from the ubiquitous tube sock of years ago. The sock world is crowded with choices, features and price points and there are always new socks and technologies to consider.
Team dealers sell mostly solid color socks to teams, choosing to work with vendors that offer quality, wide color selection, quick delivery and an affordable price.
"At the high school level our choice is Twin City Knitting's Multisport Pro socks in a sport-specific version. It's a better sock, with enhanced fit and durability. This is our go-to sock unless it's a branded school with all Adidas," says Sammy Maddox, owner of C&M Sporting Goods, Dothan, AL. "For leagues, price is the dominant consideration and Twin City's TS series all sport sock fits the bill."
While 90 percent of the socks he sells are solid colors, some of his recreational softball team and travel teams call a different play. "When they want to stand out, they order a pattern style Red Lion sock with polka dots, monkeys or lions, and wear the shorter pants style to show off their socks, " says Maddox.
All Star Sports, Florence, SC, outfits most teams with polyester blend multisport socks from brands such as Twin City, Champro, Under Armour and Adidas. "We sell socks that offer good comfort and fit and are an economical choice for schools and recreation leagues. It's mostly a solid color sock, one pair per person ordered with the uniform," says Grant Huckabee, retail manager and team sales.
Bulk buys of no-shows, quarters, crews and over-the-calf lengths make up the majority of socks sales at Bacon & Company, Knoxville, TN. "Twin City Knitting's all-sport sock is the number one sock for us. We go to them first to make sure every team can get the color and length they need, for youth to adult," says team salesman Danny Sutton.
"Generally speaking, the youth leagues are looking for a price-point sock," he adds. "As the kids progress the colorway becomes more important. The older athletes play more games and are more focused on comfort and other performance features such as heel/toe arch support. They're also more likely to buy multiple pairs so they don't have to do laundry every day."  
For Nicklasson Athletic Company, New Ulm, MN, which serves schools and recreational leagues in a rural area, most socks are sold in its retail store. "Our school budget cuts preclude them from furnishing a sock. When they do, it is typically a lower end sock that may last one season," says owner Mitch More. "Typically the coach specifies the color and the kids either buy socks in our store or go online. This is an all-sport sock, over-the-calf for football, soccer and baseball and crew length for basketball."
These dealers demonstrate that the classic all-sport tube socks remain relevant in the team market. "Multi-sport tube socks remain the largest seller, but teams at all levels are looking for something more," says Brad Davis, national sales manager for Twin City Knitting. "It can be a relatively easy sell to upgrade the sock purchase. Selling higher priced, higher margin items simply comes down to showing the product in most cases. They are an easy sell when they come out of the bag."
Athletes want a comfortable sock to slip into their high-tech shoes and advances in knitting technology and yarns continue to change the game. Sport-specific socks are designed to improve the athlete's comfort and performance, including moisture-wicking materials to prevent blisters, cushioning, built-in arch support, ventilation zones, reinforced high-abrasion points, seamless toes and strategic compression.
New technology continues to change the sock market.
"Tube socks still remain king. However, this year we have done our due diligence on what our end customers want and launched a plethora of new styles and fits, incorporating new programs, yarns and patterns," says Scott Shulman, operations manager at Pearsox. "You get what you pay for and a higher margin athletic sock means more durability and more premium bells and whistles to help you perform at the highest levels."
"There is a change of perspective when a sock becomes part of an athlete's gear versus being a commodity," says Margaret Newhard, director of product management for Wigwam Mills. "Socks can boost performance and enhance the fit of the shoe and they should be thought of as an investment and not a consumable good."
Wigwam is introducing its SynchroKnit sock now. "SynchroKnit is a completely new technology in sock construction that results in an unrivaled non-slip fit by strategically reducing bulk and excess yarn, so the sock hugs the details of the foot, cradles the arch and provides just the right amount of room in the toe box," says Newhard." We are introducing it initially in a running sock but we anticipate the technology will be used in many other applications."

I Need THIS Sock
Technical socks engineered to meet the needs of specific sports are almost always an individual purchase. The more serious the athlete, the more they demand of their sock's fit and performance. Dealers with retail outlets carry a variety of socks depending on their market, picking and choosing socks that will move off the shelves.
"We have a unique retail situation in that it is team-based," says Maddox. "We have a whole sock wall that features the exact same socks our teams buy – every color, every sport –  so they can buy it online in the team stores or at our retail store."  
He also carries some specialty compression socks from McDavid, Zero Point and Twin City Knitting. "For baseball and softball, the FP0TK sock from Twin City is very popular. It's an over-the-knee sock with compression and protection zones for sliding," says Maddox. "It's not inexpensive at $19.95, but it's a very good true compression performance sock and we carry it in five or six colors."  
Nicklasson Athletic's More stocks socks from Under Armour and Twin City Knitting. "These are the socks worn by local teams. The most expensive sock in our retail store is a $10 sock from Under Armour," he says.
Although not usually held in stock, team dealers will order specialty socks on request. "We have some tennis teams that order a specialty sock that is technically designed to accommodate all the hot spots with all the starting and stopping," says Sutton.
When custom socks are requested, sublimated socks from Twin City Knitting and ProFeet fit the bill. "These are all-over designs that we create on a builder. Sublimation allows you to do virtually any design in any color way," says Sutton.
"We have some middle school basketball teams that order custom socks, as well as soccer teams who want a jazzed up sock as an alternative."  
Custom socks make a statement and celebrate team pride. Huckabee sells custom order sublimated socks to some of his travel teams. "These are 100 percent custom socks that feature the desired artwork, name and number. We upload a build and get exactly what the team wants," he says.
Maddox serves a few local private schools by furnishing a logoed sock approved to be worn with school uniforms. "We sell very few custom socks, but private schools with dress codes will order a very specific logo sock. This is a Twin City dye sublimation sock in navy with the school logo," he says.
Sales of custom socks sales have declined for More's customers. "I know there are dealers in other areas of the country where custom socks are all the rage, but that is not the case here," he says. "With school budget cuts, our customers are not willing to pay extra for an upper-end sock."

Boosting Sock Revenue
Maddox sells additional socks online in high school spirit stores. "These are either socks that go with workout gear or socks that the coach has made a required purchase," he says.
While sock margins are generally good, all-school contracts negatively impact profitability. "Around here the all-school brand contract deals have become a big deal at the larger high schools, especially for football and soccer. They want to wear head-to toe brand like the colleges," says Maddox.
"Teams will even choose to wait for the branded sock to become available rather than ordering something else," he adds. "Because there's a contract with a set discount, there's not a lot of margin to be made. We would prefer to sell Twin City socks because there's more value — it's as good or better sock for less price."
Sutton uses team web stores as a convenient ordering mechanism for recreation league uniforms, certainly including socks. "We set up a web store so they can order and pay online. This usually includes a home and away sock for baseball, same sock in two different colors," he says.
"The sock market has changed with all the technical athletic shoes and it helps us sell more socks to some degree," says Huckabee.  "There's not a whole lot of markup on socks, but we do make money and every bit helps. We occasionally have a sock in our online team stores."
More doesn't usually sell socks in online team stores. "A lot of times the kids need the socks faster than the three or four weeks it takes to make delivery from an online store," he says.
Post-Millennial Cravings in Sock Stylings
Every generation finds its own way. They want to change things up. Make a statement. Be unique. Where post-millennials are concerned, socks are a fashion accessory. It's all about the look and the brand.
Look around. The unassuming tube sock endures as a fashion statement for both sexes. Socks with sandals? This once fashion faux pas is now a look. Many celebrities, reports Teen Vogue, are sporting good ol' white tube socks as fashion. Who knew?
Anticipating team trends is never black and white. "One trend I've seen in the last few years in team sports is black crew length socks for tennis or soccer instead of traditional white. For me it's hard to get used to the look, but that's what they want," says Danny Sutton, of Bacon and Company. "Baseball players just get a tube sock, but we do have a stirrup order pop up from time to time when teams are going for a throwback look."
Beyond the look, the purchasing process matters to this generation. "Where post-Millennials are concerned, I think making the process as easy as possible electronically is key. They want to be able to order online and receive their product as quickly as possible," says Twin City's Brad Davis.  
Scott Shulman, of Pearsox, believes Millennials want customization and the ability to stand out. "Gone are the days when someone picks a pattern and drops in a logo. Customers want to use their creativity, their feelings, and wear their expressions on their socks," he says. "That is why Pearsox gives our customers the ability to truly customize from top to bottom rather than conform to the standard mold."