Salute The Flag
There is a movement to limiting tackle and letting the flag version teach the next generation of players.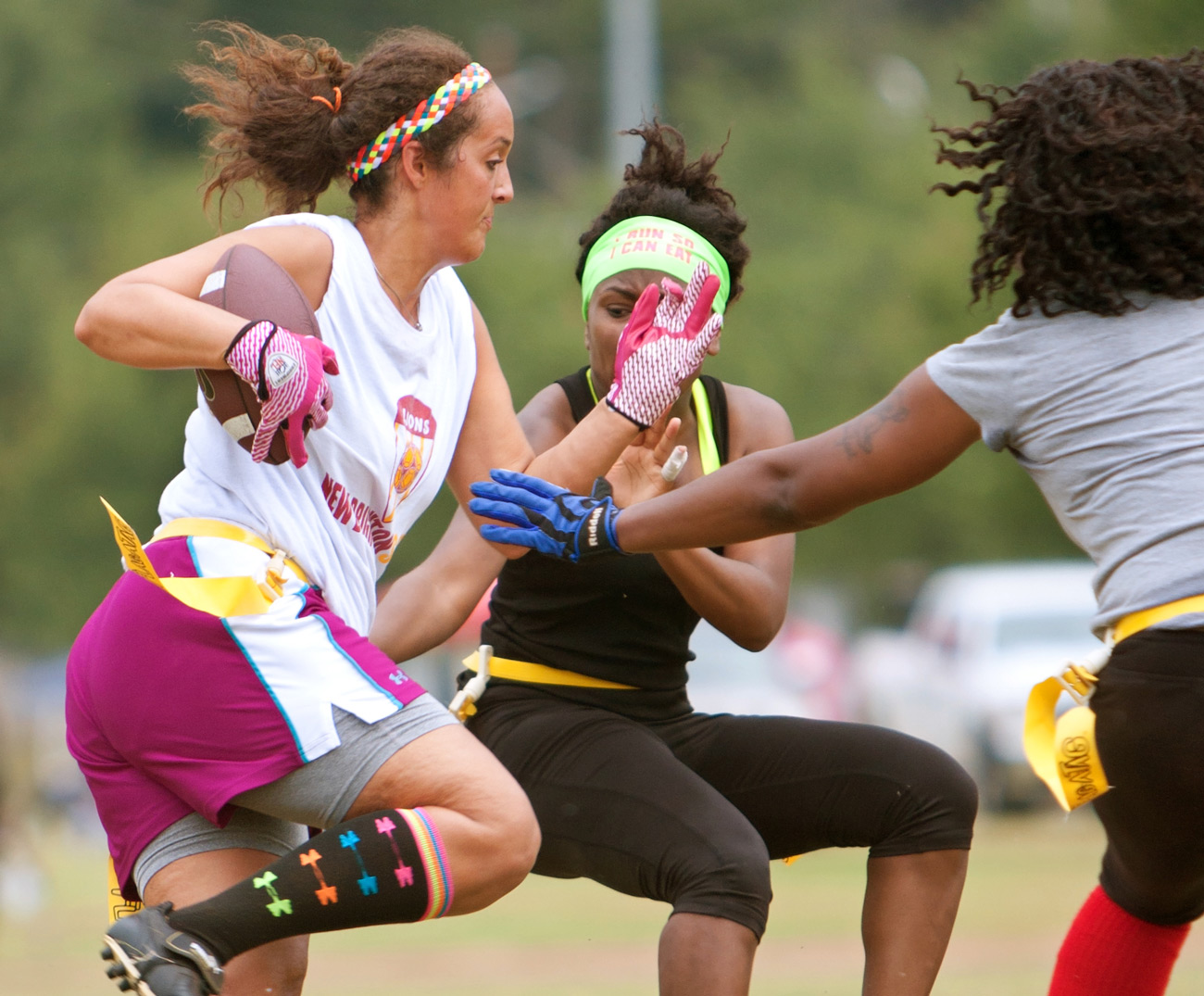 If the major threat to participation in football is safety, then it is imperative for the sport to develop a safer alternative to keep young athletes – who have a basket full of options from which to choose, ranging from other year-round sports to gaming – involved at a young age. That answer just may be flag football.
On a national level, interest in flag football is already becoming a factor. In 2018, there were 6.6 million flag football players, ages six and above, in the U.S., an increase from 5.6 million from as recently as 2013. For those who can't do the math, that amounts to 17.1 percent growth for a sport that has seen participation as a whole decreasing in that same time persiod.
And, according to the Sports and Fitness Industry Association (SFIA), of those more than six million players, almost half are "core" players who played flag football on 13 days or more in 2018.  Of those, 1.6 million are between six and 17-years old.
The strength of flag is most definitely at the youth level. Just 56 high schools sponsor a boys' flag football team, amounting to a mere 1144 players at that level.  
Of note, though, is that the high school flag football numbers for girls are significantly bigger — 350 teams and 11,007 players. Florida, which has made it a varsity sport for girls, leads the way with 271 schools and nearly 8000 girls playing in that state, where the official ball is the Wilson TDY Youth Leather ball. The other states with a significant number of girls' teams are Nevada (35 schools), California (29) and Alaska (13).
At the intercollegiate level, flag football thrives as an intramural sport, organized by the governing body of collegiate intramurals, NIRSA. There's even a national championship in the men's, women's, co-rec and open divisions.
The Florida Experience
When the varsity football season comes to an end in December in football-mad Florida, that's the cue for girls to begin thinking about their own gridiron experience, as they play varsity flag football in the spring. No marching bands, no cheerleaders and no placekickers (there are no extra-point kicks or field goals), but plenty of passion for a chance to play the state's biggest sport.  
As a result, team dealers in Florida have another significant – and growing -- football-related revenue stream.
"We sell jerseys, footballs and flags to local teams," says Vince Licata, president of Medallion Sporting Goods, Riviera Beach, FL. "We sell cleats to individual players, usually a soccer cleat."
"My high school flag football business is growing," adds Joel Dunn, sales rep for Performance Team Sports, Miami, FL, with the greatest strength in youth flag football leagues that usually buy a compression T-shirt and a pair of shorts as a uniform
"Our flag football business is picking up steam," echoes Becky Whipp, owner of Dave's Sporting Goods, Vero Beach, FL. "We sell a fair number of cleats and receiver's gloves to individual players.  We also sell shorts and tall socks to teams." Middle school flag football, which is co-ed, is growing, too, she reports.
The NFL Flags It
For the fifth consecutive year, the NFL, USA Football, GENYOUth and Fuel Up to Play 60 are sponsoring the NFL Flag-In-Schools Program. The primary goal of this flag football program is to boost levels of physical activity among children and teenagers, especially students in underserved schools.
Since the beginning of this program, more than nine million students have participated in the NFL Flag-in-Schools initiative, which is conducted before, during and after school.  In the 2019-2020 school year it is expected that approximately 4200 NFL Flag Kits will be distributed and for the program to impact 2.3 million students. This program has the backing of the NFL Foundation.
Since there is interest in and demand for such turnkey solutions to engage students in physical education, Flag-In-Schools has been able to be a resource for schools and PE teachers, both scalable and sustainable, that inspires students, both boys and girls, to be physically active daily.
"Since 2014, when this ground-breaking partnership was announced, we have provided over 16,000 school communities with flag football equipment to equip and engage students in fun physical activity before, during and after school," says GENYOUth CEO Alexis Glick.  
"Flag football is the fastest growing youth sport across the country and we are proud that we have had a direct impact on the love of the game and the adoption in school communities thanks to the incredible support of the NFL and all 32 NFL teams," Glick adds.
The NFL certainly has a vested interest in growing flag football among young fans and is delighted with the impact of this flag football program.
"The NFL is constantly seeking to enhance the football experience for participants as well as fans," says Dawn Aponte, NFL senior VP–football operations and chief football administrative officer. "The NFL Flag-In-Schools program has provided access and opportunities for participants of all ages and abilities to develop their passion for football while staying active."
Besides getting more children physically active, one of the overall goals of this program is to boost female participation in flag football.
"The NFL Flag-In-Schools program continues to grow at leaps and bounds and provide opportunities for our nation's youth to learn and play football in a fun and engaging way," adds Jayne Greenberg, project director, U.S. Department of Health and Human Services. "When educators open the curriculum this year, they'll find a brand-new supplemental resource to address opportunities for students with disabilities and offer different options for activation and increasing opportunity for physical activity.
"With more than six million students in the U.S. with disabilities, it is important that this program acknowledge, embrace, and provide access for all students."
All In: Former NFLer Abram Elam Talks (Flag) Football
After playing seven years as a safety in the NFL with the Dallas Cowboys, New York Jets, Cleveland Browns and Kansas City Chiefs, Abram Elam started his Team Elam Foundation to give back to the children in his hometown of Riviera Beach, FL. Elam is a big proponent of both flag and 7-on-7 football as a way to get younger players involved in a sport that has given him so much. Team Insight caught up with Elam in the off-season to talk (flag and 7-on-7) football.
Team Insight: When is a good age to start playing tackle football?  
Elam: A good time to start is between eighth and ninth grade. The game of football is so physical and demanding that you don't want your child to get worn down or have the risk of major injury at an early age.
What do you feel are the similarities that are shared by tackle football, 7-on-7 football and flag football?  
In flag football, you get to do all the movements that you do in tackle football. You pick up knowledge of the game and you get a chance to compete without the pounding. In the game of (tackle) football, especially at the skilled positions, it's a game of speed. You have to be fast and move fast. It's also helps to be agile and quick in order to be successful.
What are the similarities in getting ready to play the different versions of football?
Back cuts, breaking right, running forward, cutting, catching the ball and throwing the ball remain fundamental to the game of football, regardless of whether it's tackle or flag.
What are the benefits of young people playing tackle football, 7-on-7 football and flag football or any team sport, for that matter?
Being a part of a team sport prepares you for real life. It helps you learn how to communicate and work well with others. You get to face adversity and learn how to persevere. Those things become coachable. These are important in the game of life. So I encourage any kid to be involved in any activity — the more the better.
Is that part of what your Team Elam Foundation promotes?
Yes, we do a lot of training where we educate people about eating healthy and participating in sports. We have a 7-on-7 tournament that we are hosting this July to help the local kids get exposure and provide a platform for them to compete at a high level against some of the top talent in the area.