4 Takeaways
The past football season provides insight into what the future of the sport will look like.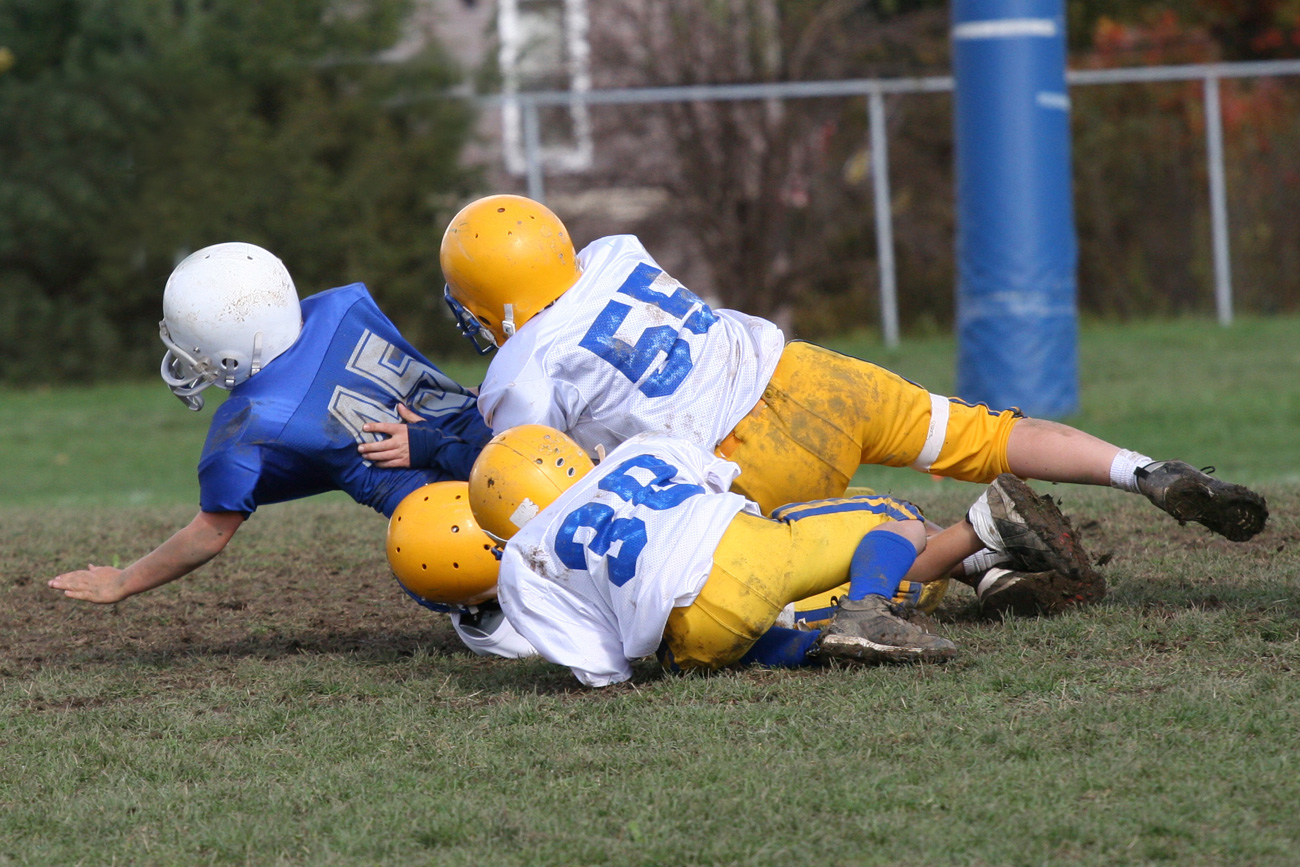 1. High School Football Rules The Business
‍There is only one high school sport with more than one million participants —11-player tackle football, according to the National Federation of State High School Associations (NFHS). A total of 1,006,013 student-athletes played high school football in the 2018-19 school year, although tha is a 3.2 percent drop from the 1,039,079 high school football players in 2017-18 and a 9.7 percent drop from the 1,114,253 football participants during 2016-17.  
The number of high schools that sponsored 11-player tackle football in 2018-19 ranks fifth in the country — 14,247 schools, a slight 1.2 percent increase from 2017-18.  
According to NFHS executive director Dr. Karissa Niehoff, the current participation numbers for high school football have a significant silver lining.
"While there was a slight decline in the number of (football) participants in many states, the number of schools sponsoring the sport was the highest in five years," she notes. "In fact, the number of schools last year with 11-player teams has only been topped twice in the survey's history – 14,262 in 2013-14 and 14,279 in 2010-11."
The top 10 states for high school football participation are:
Texas (165,641 participants)
California (91,305)
Florida (40,361)  
Ohio (39,794)
Illinois (38,366)
Michigan (33,868)
Alabama (32,366)
Georgia (31,904)
New York (27,652)
North Carolina (26,969)
While 11-player tackle football is what attracts the overwhelming majority of football participants, there are other versions of being played across America — six-player football is played in eight states, eight-player football is played in 22 states and nine-player football is played in four states.  
Niehoff confirms that these alternative versions of football are an important part of the high school football playing experience.
"Smaller schools in some states have shifted to six-player, eight-player and nine-player football and have had good responses," Niehoff reports. "The survey indicates an additional 156 schools and 1594 participants involved in these alternate forms of the sport."  
And, while tackle football is dominated by young males, it is not a male-only sport. In the 2018-19 school year, girls played 11-player high school tackle football in 38 states. It's also worth noting that girls are playing six-player football in six states, eight-player football in 16 states and nine-player football in two states.  
To reveal the true popularity of high school football, Niehoff made a fandom observation — comparing interest in high school football with interest in the National Football League (NFL).
"Although there are many options today for the entertainment dollar, nothing surpasses supporting the local high school football team on Friday nights," she says. In fact, in week two of the current NFL season, just under 1.1 million fans attended the 16 games. While impressive, it doesn't come close to the number of fans who watched high school football during the corresponding week. It's all in that number — 14,247.
"With approximately 7123 games every Friday night (14,247 schools divided by two), and with a conservative estimate of 1000 fans per game, there are more than seven million fans in high school football stadiums every week," she adds. "An unofficial attendance survey conducted by the NFHS in 2011 indicated about 165 million fans attended high school football games during that season. Either way, the number of fans at high school football games dwarfs the numbers attending professional football games."
Niehoff certainly does not discount safety concerns surrounding the sport and admits that discussions about the severity of football injuries have resurfaced, with concussions remaining a focal point of concern by coaches, players, parents and the governing bodies of the sport. A recent statement from Niehoff indicates that high school football is truly getting safer.
"New data from the National High School Sports-Related Injury Surveillance Study indicates some positive trends in concussion rates," she says.
The study  indicated that concussion rates during football practices dropped from 5.47 to 4.44 concussions per 10,000 athletic exposures between the 2013-14 and 2017-18 seasons. In addition, repeat concussion rates across all sports declined from 0.47 to 0.28 per 10,000 exposures during the same time period.
2. Youth Football: The True Minor Leagues
‍The majority of America's football players get their first taste of the game in a local youth league. If it isn't an independent, locally organized league, then they most likely play under the umbrellas of Pop Warner Little Scholars, whose well-known alumni include current NFL quarterbacks Drew Brees, Nick Foles and Marcus Mariotta. Seattle Seahawks head coach Pete Carroll is another Pop Warner alum.
In recent years, overall participation in Pop Warner-sanctioned football has hovered around 225,000 players, but that number may change when total participation is calculated for 2019.
"We expect our enrollment numbers to increase for 2019," says Pop Warner Little Scholars executive director Jon Butler, whose organization has a presence in 36 states.
According to Butler, the biggest reason for the expected increase in participation is the recent rules changes, which sent a message that the health, welfare and safety of the players is of paramount importance.
Three-point stances in the three youngest age divisions have been banned, kickoffs have been eliminated, all coaches must take the Heads Up Football training sessions every year and full-speed tackling drills are limited to 25 percent of practice time.
The elimination of kick-offs was based on statistical research. "Kick-offs were only taking up six percent of the games, but were accounting for 20 percent of the injuries," reports Butler.
While on the topic of youth football, in late October, it was reported that legislators in Massachusetts are considering a bill that would ban tackle football for children in the seventh grade and under.  
USA Football CEO Scott Hallenbeck has traveled to Massachusetts to provide testimony opposing the bill, which is officially called "An Act for No Organized Head Impacts to Schoolchildren."
"Parents do not want their government telling them when their kids can play football. We hear this from them often," Hallenbeck says. "Instead, they want to make informed decisions for themselves. Parents need information and options in order to determine what is best for their child."

3. The American Football Player
The big-picture participation numbers for tackle football in the U.S. have definitely been higher, but they could be lower. According to the Topline Participation Report assembled by the Sports and Fitness Industry Association (SFIA), there were 5,157,000 tackle football players in the U.S. in 2018 — a 17.1 percent decline from the 6,222,000 football players in the U.S. in 2015.
The most important participation statistic for tackle football is the number of core football players who are between the ages of six and 17. In 2015, there were 2,539,000 core football players in the U.S. in that all-important age group. Fortunately, that number has remained stable, relatively speaking.
Interest in flag football has been increasing. Since 2014, overall participation in flag football in the U.S. has grown every year — from 5.5 million in 2014 to 6.6 million in 2018.
There are many outside factors that are the reason for the overall decline in football participation. They include sports specialization, injury/concussion concerns, the high cost to play, too much of an emphasis on winning and the decline in P.E. programs. The latter may raise a few eyebrows, but the impact is real.
"If you don't introduce children to the importance and benefits of a physically active lifestyle while in school, they often don't play any kind of sport or engage in any form of physical activity, which is not a positive trend," says Alli Schulman, SFIA's coordinator of communications and marketing.

4. Flag Football:  The Present And Its Future
‍In the fall of 2019, USA Football announced plans to take flag football to another level and next year the organization will be staging a national flag football championship for the first time. Called The One, the tournament will be one of the largest youth and adult flag football tournaments in the U.S. and is expected to draw teams from a summertime national series of sanctioned tournaments and at-large entrants. The One will be held July 24-26, at Grand Park Sports Campus in Westfield, IN.
"Our sanctioned tournament structure will set a new standard in quality within our sport's community and enhance the experience of each competing athlete," says Eric Mayes, USA Football's senior director of football operations. "We look forward to the structure's ultimate culmination when we welcome teams from across the country to central Indiana next summer for three days of elite competition at a world-class venue."
On another flag football note, the sport is a varsity spring sport for high school girls in Florida. In the 2018-19 school year, 278 Florida schools sponsored girls' flag football teams, which generated 7683 female participants. (In Florida, traditional varsity high school football is played in the fall, while girls occupy those same varsity football fields in the spring for flag football.) The only thing they don't have are marching bands, cheerleaders and placekickers, since there are no extra-point kicks or field goals.
As a result, team dealers in Florida have another football-related revenue stream.  
"We sell jerseys, footballs and flags to local teams," reports Vince Licata, president of Medallion Sporting Goods, Riviera Beach, FL. "We sell cleats to individual players. It's usually a soccer cleat."
"My high school flag football business is growing," echoes Joel Dunn, a sales rep at Performance Team Sports, Miami, FL, who says the flag business centers on uniforms, usually a compression T-shirt and a pair of shorts.
"Our flag football business is picking up steam," adds Becky Whipp, owner of Dave's Sporting Goods, Vero Beach, FL. "We sell a fair number of cleats and receiver's gloves to individual players. We also sell shorts and tall socks to teams. Middle school flag football, which is co-ed, is growing, too."