Toe The Line
Four top sock vendors to team dealers look to the future of the segment.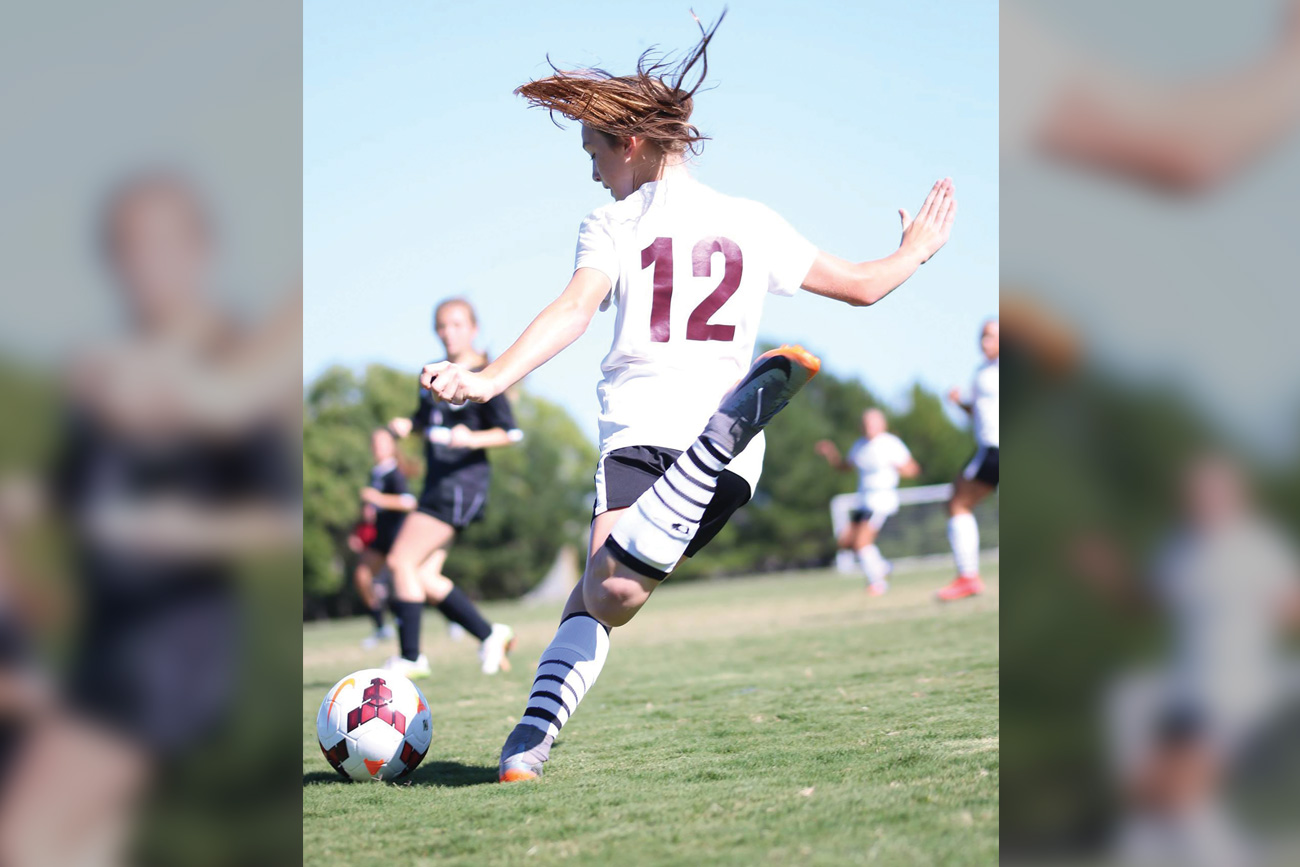 At the Table…Scott Schulman, Executive VP, Pearsox. Ashleigh Brown, Marketing Director, Pro Feet. Josh Wintermantel, Founder/CEO, Socks Quick. Brad Davis, VP–Sales, Twin City Knitting.
A sock seems to be much more than a sock these days — fashion statement, compression, performance. What is your definition of an expanded sock business for the team business?
Brad Davis: The most popular term would be ath-leisure. This is simply the fusing of true athletic socks with today's fashion trends that are worn both on and off the field.
Scott Schulman: The definition of a sock is a fashion statement that screams team passion, yet it is key piece of performance attire. Customers rely on a high-performance product that contains all the bells and whistles of an elite product.
Ashleigh Brown: Socks in the team business, men's dress and casual wear have been popular for a number of years, as we've all seen. An expanded sock business for team dealers should include compression options, fashion and looking beyond teams for increased revenue. Socks should be included in fan wear and custom dress socks would make a terrific fundraiser for booster clubs during holiday season. Consumers demand not only fashion, but also quality and performance.
Josh Wintermantel: Team dealers should sell custom socks because the profit margin per pair, or per player, is about three-to-five times that of a retail sock.

How did the team sock business become one of the hottest, highest margin businesses for team dealers in recent years?
Wintermantel: The category was driven by the Nike Elite sock, which was released about a decade ago. As Nike and other retail giants raised their price on performance socks, margins on socks soared for everyone. Today, many teams prefer a custom sock with their logo, compared to a retailer's logo.
Davis: It was started by major athletic brands bringing attention to socks with strong marketing campaigns and outfitting pro and collegiate athletes. This created a new consumer desire for socks that we had not seen before, allowing price thresholds to increase.

Brown: Historically, socks have always produced some of the highest margins per square foot for team dealers. Socks have gained much popularity in recent years because the consumer has recognized socks as part of their equipment. They recognize quality socks help their feet feel better and, in turn, they perform better as athletes.
Schulman: The team sock has always been a part of the dealers' toolkit and always been one of the hottest, and highest margins, for team dealers, It comes down to the fact that custom socks are easier to sell then ever due to technological advancements such as sock builders and new machines with more needles and more colors per logos. This, coupled with the fact that dealers have been pushing this product more in recent years, has led to the sock becoming an essential piece of performance attire.

How do vendors and dealers continue to keep it a hot market?
Schulman: Vendors need to continue to simplify the custom sock process, making it a no-hassle, headache-free process. Dealers need to continue to show and push the custom sock.
Brown: Dealers should continue to provide fresh offerings to their customers and it's our responsibility as a vendor to continue to offer new designs and performance features. Dealers shouldn't be afraid to offer socks in their team stores.
Davis: We have to continue to create and provide new designs, technologies and selling tools to keep the product fresh and the selling process easy. Dealers simply need to stay educated on the newest products and proactively sell socks.  
Wintermantel: We must continue to adapt to the latest trends and technology advancements.

What is driving the business for team dealers?
Davis: I would say the customization aspect is still driving the business.
Schulman: The technological advancement of the  knitting and finishing process has pushed out an unbelievable product that cannot be ignored.
Wintermantel: Customer service. Coaches want customer service. Kill the customer service and reap the benefits.

What role does customization play in the sock business headed into 2020?
Wintermantel: A huge role. Profit margins are three-to-five times higher when selling custom socks compared to retail.

Davis: It continues to play a major role, but we do see a shift in customization. We are very focused on expanding our offerings within the baseball/softball category. This is where we have seen the most growth in the past year.  
Brown: Custom sock sales to teams aren't slowing. A custom sock completes the look of a uniform and is maybe the one piece of equipment the player is allowed to keep. It's a low price point item to differentiate and get kids excited. But teams want socks faster and faster. They want socks delivered quickly.
Schulman: Customization will continue to drive the team sock market in 2020.

How about the role sublimation is playing in socks headed into 2020?
Brown: This category will continue to grow for us because of the quick turn times and low minimums, all while offering a performance sock. Teams are willing to pay a premium for sublimation because they can get it nearly at once and the graphics are unlimited.
Schulman: With knitting equipment becoming more advanced in regards to logo detail, sublimation's time in hosiery will continue to fall further behind. The lower quality pretty sock will not be able to hold a match to the quality and finish of the knit in athletic sock.
Wintermantel: We manufacture sublimation socks, but we see most teams order knit-in athletic socks. These sock's customizations are more durable and more suitable for a team performance sock. Sublimation should be used only when wanting those crazy designs.
Davis: Sublimation continues to play its part in the team market. When done the right way it not only offers details unable to obtain in knitting, but also keeps the performance integrity of the sock intact.  

What are the challenges in 2020?
Davis: Like any business driven by market trends you have to continually evolve to stay relevant, both in design and as a brand. If done incorrectly you risk losing ground in the market place.
Schulman: The biggest challenge we will face in 2020 is being able to show the superior quality, fit and turn time of our new Next-gen Pearsox socks.
Brown: The changing landscape of the team business will continue to be a challenge. Consolidation on the dealer and vendor side creates uncertainty. But we'll continue to innovate and offer exceptional service and we're confident we'll continue to bring value to the market.

Finally, any advice for team dealers?
Brown: Don't be afraid to add socks to your team stores. And look beyond selling basic socks to your customers. They're willing to pay for uniqueness and performance.
Wintermantel: Have a mockup process that is easy for your reps.
Schulman: Keep the process simple, use existing patterns and put a sample in the customer's hands.
Davis: The simple answer is show them. To many road guys socks are still an afterthought, but the guys that get it do very well in the category and are rewarded with added sales and nice margins.