On-Trend & In-Style
From shorter shorts to full sublimation, what team dealers need to know for 2020.
With a new year comes new sports uniform trends. From the big brands in the major leagues to what gets worn on schoolyard fields, new looks are coming. Apparel manufacturers are pushing the envelope with new blends and weaves to increase performance and flexibility. It is vital for team dealers and their roadmen to keep abreast of the apparel and decorating trends to stay up to date with the looks fans and players want.
It all starts at the top, of course. Uniforms for professional and collegiate teams continue to draw on classic looks, but with modern twists. When they venture outside of traditional looks or colors, they're often showing off uniforms with a story indicative of their city or team's history. Some of these looks are throwbacks to old colors, while some are completely new, drawing inspiration from other sports or city culture.
And, of course, what kids see on TV is what they want for their own latest look. It all trickles down and when it comes to youth leagues, garment sublimation is huge, especially in sports such as soccer and lacrosse. Sublimation allows for the whole jersey to be decorated with a variety of colors and shades, even printing the players names/numbers directly into the garment. In sports like baseball and basketball, teams are more likely to mimic what collegiate and professional teams are doing, keeping things simple and classic.
In the big leagues, sports jerseys are a growing source of revenue. The big news recently is that Nike has taken over the MLB uniform contract. That means Nike is the contract holder for the three biggest major sports leagues in the USA – NBA, NFL and now MLB. Nike has an ever larger influence on sports jersey trends as a whole, as these jerseys are designed for functionality as well as retail.
Growing in fashion, soccer and lacrosse jerseys are becoming incredibly popular as streetwear. As both are the two fastest-growing sports in America, apparel companies such as Adidas and Puma are taking the appeal to the masses. Soccer and lacrosse jerseys are showing up in public, with fashion-forward designs and fabrics being adorned by fans and non-fans of the sports.
More than ever, jerseys represent who players and fans are. If you're decorating jerseys, you need to keep up with the trends. Educate yourself on what on new fabrics and designs, and how to decorate them.
As 2020 unfolds, these are some sports uniform trends driving the business.

New Takes on Classic Looks
In the 1970s, when color television was becoming widespread, some baseball teams changed their uniforms to show off their spirit in style. Sporting baby blue uniforms that looked gray on black-and-white TVs, teams like the Phillies and the Twins created a look that is now indicative of that time.
This look is trending back, as the Twins, as well as the Rangers, have introduced baby-blues for the 2020 season. As Nike takes over, expect teams to both break tradition and draw on tradition for inspiration. These looks will also trickle down to youth sports teams as young players want to look like the pros.
In basketball, there's another old-school look that's making the rounds: short shorts. Yes, you read that right. Many players in collegiate and professional basketball are opting for shorter shorts, claiming it helps them be more mobile.
Lester Quinones (of the Memphis Tigers) made headlines when he made his debut, not because of his playing, but because of the amount of leg he was showing. He's not the only one, as many college players are rocking the look, as well as younger professional players. Expect to see younger players draw inspiration from their older peers by wearing smaller-sized shorts and rolling up their waistband.

Pushing the Limits
While many professional soccer and lacrosse teams are sporting retro looks, youth leagues are filling their jerseys with color and patterns thanks to garment sublimation. Patterns like "Prism" and "Galactic" denote popular looks. Completely custom sublimation is on the rise, with many teams having jerseys sublimated with their team's logo and roster. These uniforms can be super colorful, with limitless options for shading and gradients.
In football, expect uniforms to continue to focus on practical performance fabrics. Gone are the loose, baggy jerseys of yesteryear. Instead, teams are investing in tight uniforms that flex and compress. This helps keep pads inside the jersey, absorbs some impact and keeps the opponent from having an easy grab. Jersey manufacturers are coming out with proprietary polyester blends and mesh weaves to enhance durability and breathability. Many football jerseys now feature moisture wicking and cooling vents, all in the effort to evaporate sweat and let that tight-fitting uniform breathe.
It's All About Identity
If there's one trend happening for jerseys across all sports, it's uniforms with a strong sense of identity. Not only do teams sport their colors, but they are wearing jerseys that represent who they are. Now more than ever, uniforms are being used to tell a story.
One example of this is the University of Texas football team. For the 2019-20 season every player had a number 32 decal on their helmets in remembrance of former Longhorn player, Cedric Benson. In August, 2019 Benson's motorcycle collided with an SUV, tragically killing him and his passenger. It's easy to see how this small, decorative touch holds a lot of meaning for UT fans and players.
Nike is continuing its uniform changes for most of the teams in its leagues. This includes the NBA, where teams have City Edition uniforms whose designs draw inspiration from history and culture. Good examples of these are the Pistons' Motor City uniforms, drawing on Detroit's auto industry connection, and the Miami Heat's "Vice" theme. Every year they are rolling out new designs to keep looks fresh, but also to increase revenue.
These uniform trends on the professional and collegiate level translate to big retail sales for teams and offer opportunities for team dealers and retailers. Expect the popularity of jerseys as fashion items to only grow. As big companies vie for the creative control and licensing of larger teams, watch how youth teams adjust their uniforms to reflect the tastes of the teams they admire.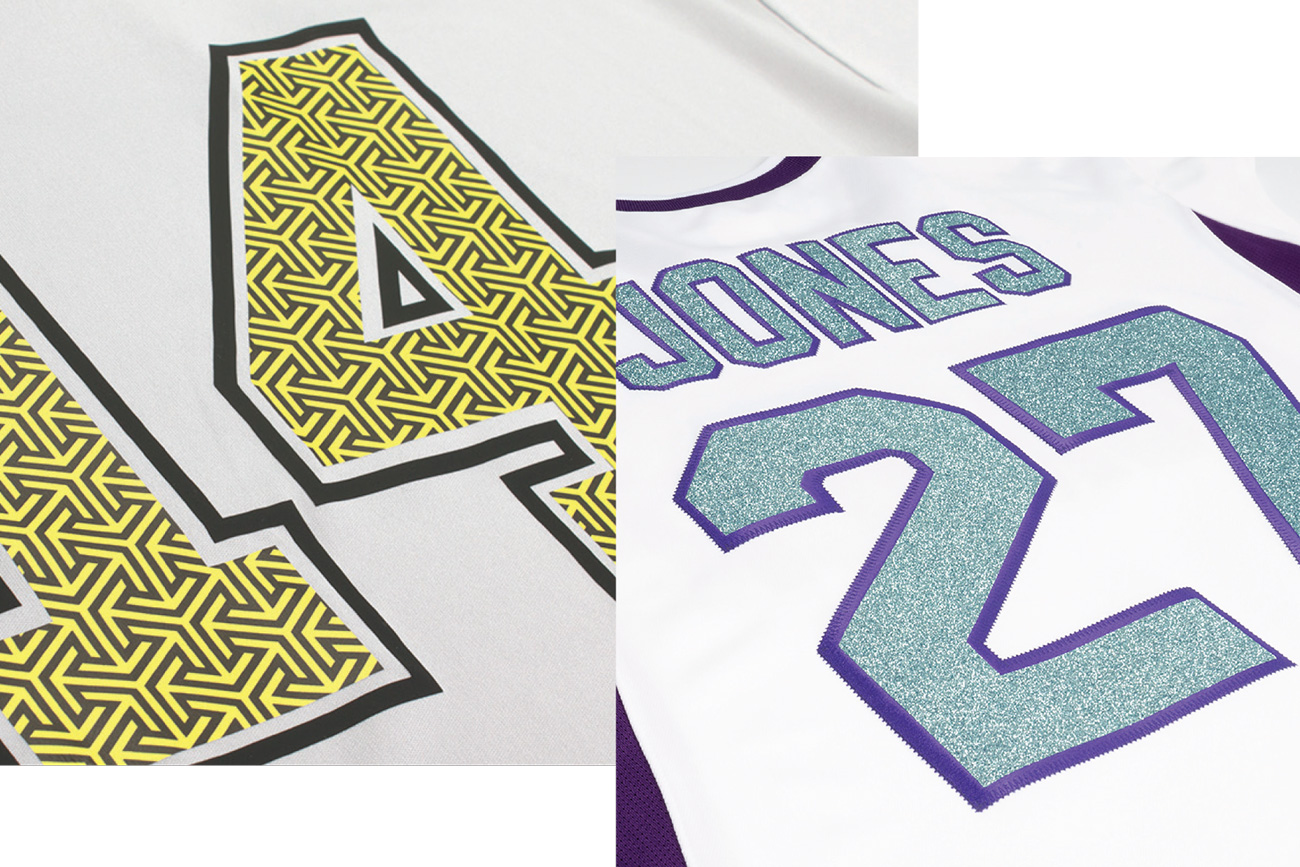 Push the Trends
As jerseys permeate culture and become fashion mainstays, expect players on local teams to want more fashionable uniforms. Uniforms that players feel proud to wear will boost team confidence.
Team dealers should push their knowledge of trending uniforms, as well as how to decorate them in order to meet their customers' demands. With new fits, performance fabrics and colorful fabrics, there is more variety than ever when it comes to sportswear. Keep your eye out for what's coming in 2020 to keep your business growing.
From new takes on old classics, to blasts of color, to identity in spades, uniforms are evolving. Each year brings new changes and challenges. Teams are capitalizing on the rise of sportswear as a fashion statement and this is influencing the tastes of young teams and athletes. Stay ahead of the pack on new trends to give your teams what they want. n

Andrew DeHaan is a content writer for GroupeSTAHL, Sterling Heights, MI, a company specializing in the development, manufacturing and distribution of heat printing technologies. He can be reached at Andrew.DeHaan@stahls.com. For more: stahls.com; 800-4-STAHLS; info@stahls.com‍