GIRLS' SPORTS OVERVIEW: Fashion
Trend Right
Girls' uniforms play on fashion trends and demand performance along with style.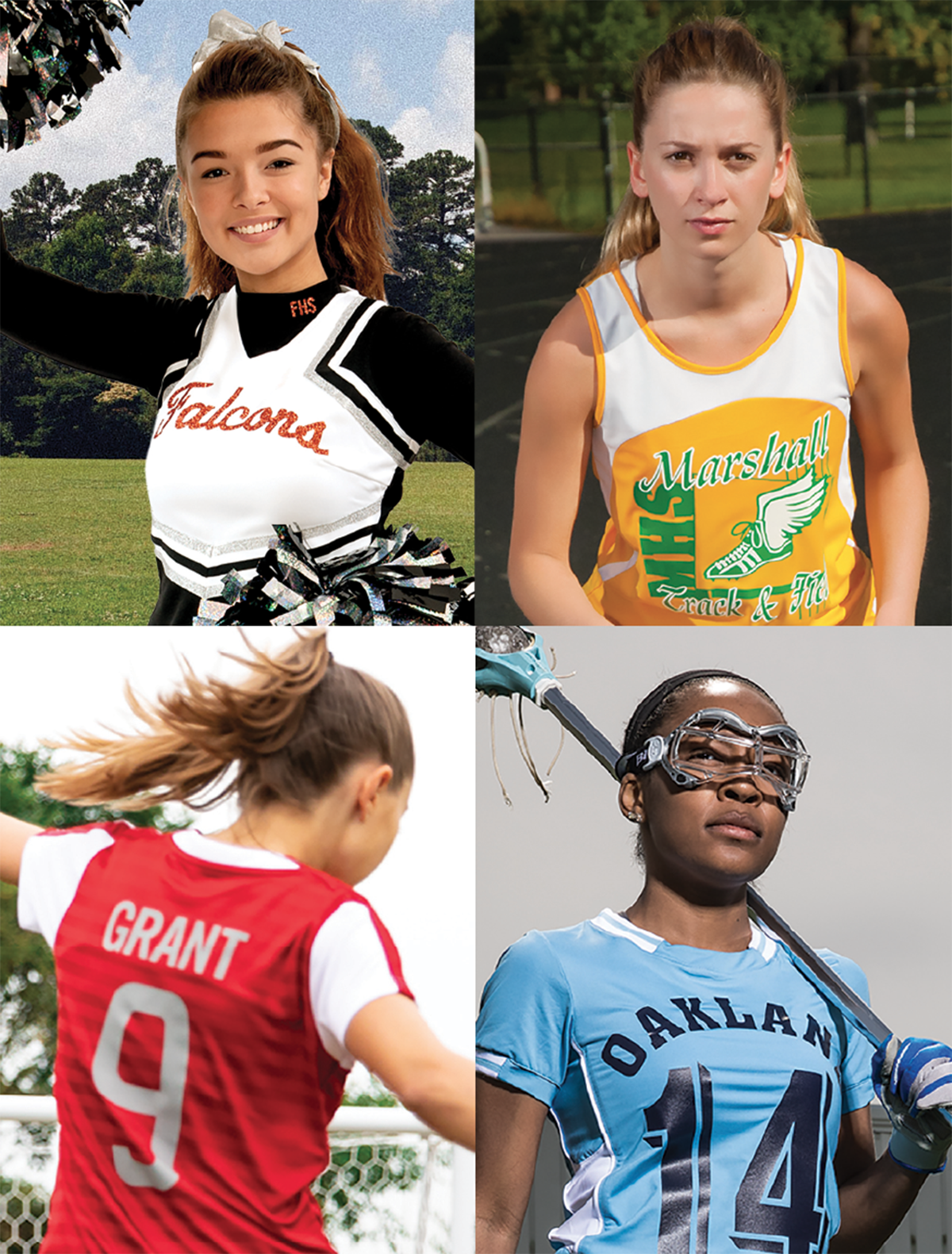 Girls are a dominating demographic in the sports market and dealers should be capitalizing on decorating for their teams. Sports such as track and field, volleyball and basketball reign supreme among high school girls. While high school sports participation is in a slump, girls' participation is growing. According to the National Federation of State High School Associations, girls make up 42.9 percent of all high school sport participants.
Traditional American sports like basketball and football are on the decline in popularity in high schools across the country. Forbes reported last year that girls' basketball participation was dropping faster than boys' participation in football. In its place, more girls are playing soccer, lacrosse, and volleyball. While participation in high school sports is slumping, the Wall Street Journal reports one sport growing in participation: girls' wrestling.
As girls continue to have more options to participate in sports, it's important to know how to decorate their jerseys. By knowing the ins-and-outs of uniform trends, you can be prepared to decorate what teams and athletes need.
The shift toward flexible and breathable fabrics means you'll need heat applied materials that keep players comfortable during strenuous movements. These fabrics are often heat-sensitive, so decorating requires care to ensure adhesion and avoid scorching the garment.

High Performance, Fashionable Looks
More athletes are wearing moisture wicking uniforms on the field and performance wear off the field. These synthetic garments pull moisture away from the body and into the outer layer of the fabric where they quickly evaporate, keeping them cool and dry. For high-intensity sports and training, these properties are appealing and are becoming the new standard. It's crucial that these uniforms are decorated with materials that can stretch and rebound with them. The last thing female athletes want is a stiff decoration on a garment that is supposed to move.
Professional athletes are changing their uniforms — and kids and coaches are noticing. Sleeker and slimmer apparel is replacing baggy shorts and heavy jerseys to create a more defined, clean look on the field and court. The pros are getting more in touch with fashion. As sports jerseys have become popular in streetwear culture, looks have changed in the uniforms to reflect trends in streetwear.
Expect players and teams to want to incorporate more modern looks and materials into their uniform design. Feeling good is just as important as looking good, so many female sports are switching to lightweight garments with form-fitting silhouettes.
Compression materials are also being used for reducing strain while playing and for muscle recovery. In intense and highly physical sports, compression materials can help absorb and reduce impact, whether from another player or from the ground.
Another trend you'll see in sports apparel is ventilation for maximum breathability and regulating body temperature. Major sports apparel companies are investing millions in developing new fabric technology for the pros and as these advancements are rolled out, expect them to trickle down to younger teams.
2020 Decorating Trends
Sports can have specific uniform decorating regulations, but your designs should never be boring. A wide range of heat applied materials in vibrant colors, reflective accents, new patterns and tone-on-tone looks give creative flexibility beyond any other decorating method. No matter if you're decorating for youth and teen leagues, or college level, every team wants to be relevant and memorable and this starts with how their uniform stands out among the rest.
Sublimation is a huge trend in sports and a growing challenge for decorators. Everyone wants the seamless, vibrant colors and design flexibility sublimation offers, but not everyone is aware of the difficulties of decorating it. The process of sublimation embeds ink in the garment and this ink is reactivated with heat.
When you press a sublimated garment, these inks can come out of the fabric and "bleed through" the decorating material. Another difficulty with decorating sublimated garments is that they're made of heat-sensitive polyester. Applying too much heat to polyester will cause you to scorch it.
The key to decorating on sublimated apparel is to choose a material that applies at a lower temperature and has dye-blocking properties. Make sure your customer can stand out with a unique jersey that's not marred by poor application technique or improper materials.
Use specialty materials to achieve a unique look. Reflective accents, metallic highlights and shimmering glitter can all add an extra eye-catching element to a uniform. They don't have to be bold or over-the-top. Subtle design additions can make a jersey really pop. For sports like competitive spirit, glitter is very popular and adds a spectacular detail that judges will be sure to notice.
Textural and dimensional pieces are also popular among girls' sports teams. Whether it's an emblem on the jersey to commemorate a monumental win or the team's logo, decorating with dimensional designs adds a sense of luxury. Adding texture can elevate brand recognition by creating names and numbers in materials like distressed, suede and faux appliqué. Textural looks work great as a substitute for embroidery in sports like softball. A distressed appliqué on a split-front softball uniform makes for a memorable take on a classic look.

Stay Informed to Stay Relevant
Girls' sports are changing and growing. With more than 3.4 million girls participating in high school sports last year, team dealers need to make sure they are catering to their needs. It's important to stay current with trending sports uniforms and make sure you can effectively decorate them.
Uniforms are being made with new fabric technology that flexes and breathes like nothing else. Sublimation is catching the eye of teams and fans and is only going to increase in popularity. These new fabrics and garments can present their own difficulties in decorating. Educate yourself on your equipment, different fabrics and blends and what materials you need to use to effectively decorate them.
Sports such as lacrosse, soccer and wrestling are on the rise, while less girls are participating in some other traditional sports. Diversify your uniform supply and stay relevant. While basketball may be declining, it is still incredibly popular and shows no sign of going anywhere. Embrace the new sports available to girls, as well as the uniform changes, and use it as an opportunity to grow your business.
Stay on top of what your clients want and you will be successful. Even better, if you can deliver on what they didn't know they wanted, you can expand your business further. Forward-thinking add-ons like patches and emblems, or designs that incorporate reflectives and metallics, may impress your client and will add value to the jersey, increasing your bottom line.
Andrew DeHaan is a content writer for GroupeSTAHL, Sterling Heights, MI, a company specializing in the development, manufacturing and distribution of heat printing technologies. He can be reached at Andrew.DeHaan@stahls.com. For more: stahls.com; 800-4-STAHLS; info@stahls.com