Hannah S., 18, Birmingham, MI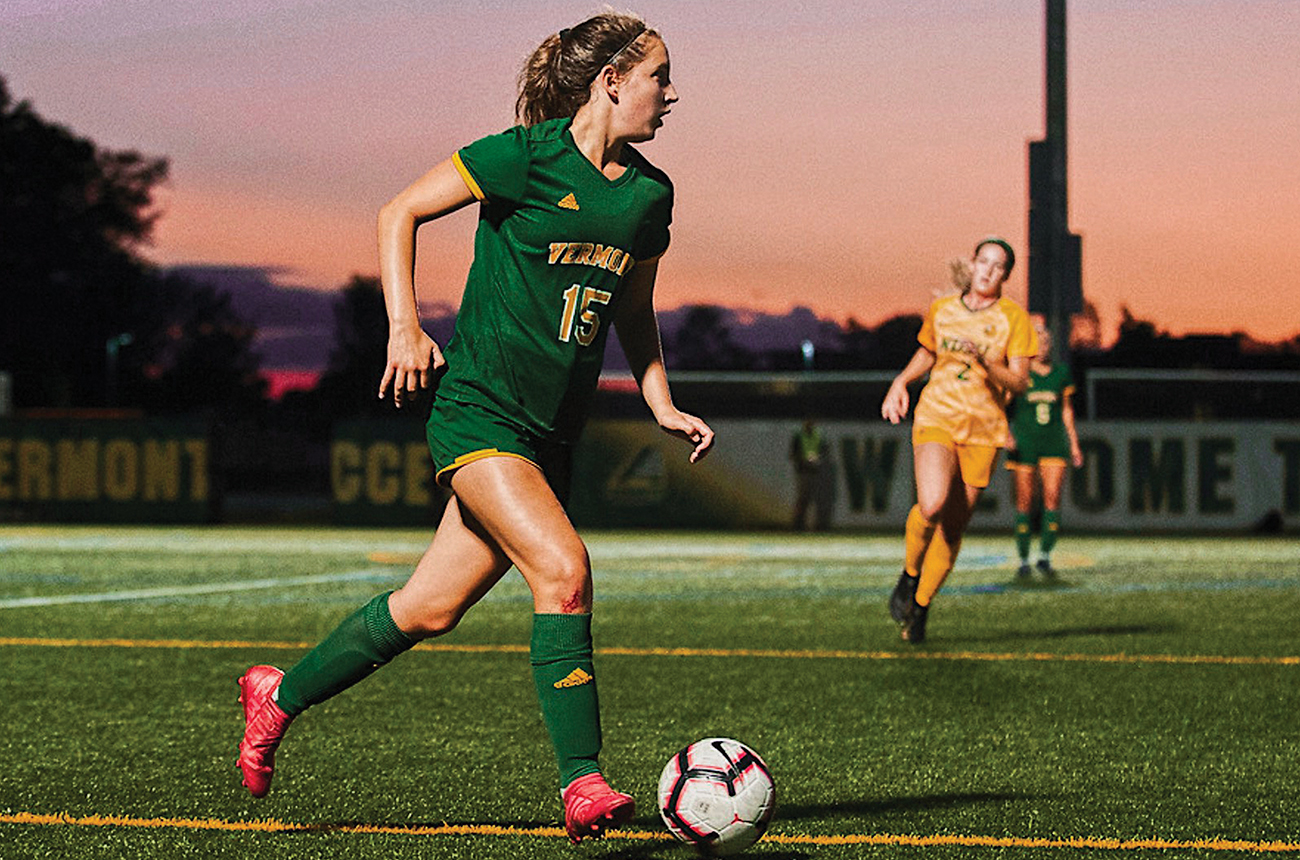 The Athlete: Currently living in Burlington, VT, for college, Hannah has played soccer since she was four-years old and currently plays Division 1 soccer for the University of Vermont.

1-10: The main manufacturers I have come across are Nike, Adidas and Brine. Nike is definitely my favorite and I would give them a 9 out of 10. For the most part their products are high quality and they have a wide variety. I really like that I can get pretty much all my soccer products from Nike. I give Adidas a 7 because, despite being very similar to Nike for the most part, I like the way Nike apparel looks more. Adidas tends to have a baggier fit, which is not what I look for in my soccer gear. I would rate Brine a 6 out of 10. They have great mid-price range balls, which were good for when I was younger, but when it comes to top of the line balls this is where they fall short.
Likes and Dislikes: I really like the variety of apparel for soccer. Cleats come in all sorts of colors and styles, which is great  because I have a very narrow foot.  I am most critical of my socks and shorts.
Better or Worse: Cleats are a lot more diverse and better since I started playing soccer. Also shinguards have improved a lot — when I was little they didn't offer any slip-on option, which was game-changing.
For Girls Only: I have not noticed any difference in girls' equipment becoming better or more available.
Boys' Stuff?: I typically do buy men's cleats because there is more of a variety. Because I have such a narrow foot, finding cleats is hard, so having a bigger selection in the men's section has been ideal.
Where to Buy: I have always bought my cleats and balls at various soccer stores near me. For my own use I have typically shopped at Dicks. Finding gear that fits how you like is super important, so being able to shop in person, especially when you are buying something you don't already own, is super beneficial.
Favorite Gear: My favorite gear has to be big coats, or as we call them here at UVM, puffys. Living in Michigan and now Vermont, most of my seasons have been in cold weather. It is crucial to be able to be warm when warming up and when sitting on the bench. Having a big wind-resistant coat has been huge. I also love Under Armours that have thumbholes in the sleeve. This is great during a cold game and is especially helpful when having to throw the ball in.
Horror Stories: The liners within the women's shorts are pointless. Most of my teammates cut them out as soon as we get new shorts. Soccer women are built with large thighs, so most of us wear separate spandex under our shorts. The liners make this very uncomfortable. But even if you don't wear spandex, the liners make us chafe.
Message to the Industry: I do have a couple of ideas. When it is the summer in particular and very hot and humid, cleats can get extremely warm. I am particularly prone to nasty foot blisters and I often wear two socks to prevent friction in my cleats. I would love if there was a sock that was extra breathable or blister proof. Soccer socks tend to not be great when it comes to regulating heat and friction. When it comes to spandex they are great, but still cause some problems. We are constantly pulling them down. It would be nice if there was some sort of grip on the bottom of them to prevent them from constantly riding up.

‍Skyler W., 16, Seattle, WA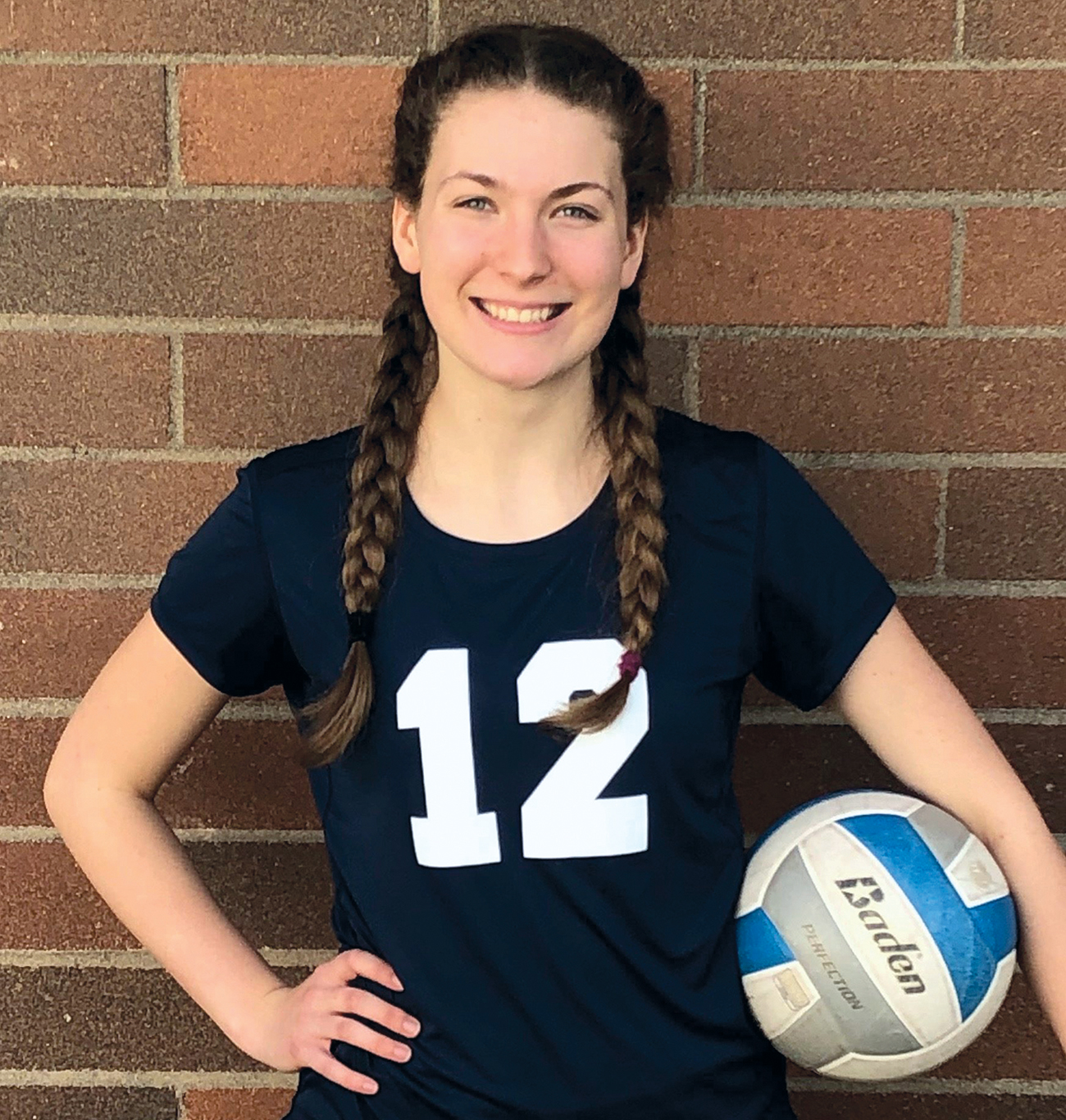 The Athlete: Skyler fell in love with volleyball when she began playing as a 10-year-old in her local park district. She now competes for her high school team as well as a local travel club.
1-10: I would rate my sports equipment an 8. For the most part, the sports bras, socks, spandex, kneepads and shoes have given me no problems. The only piece of equipment that has not worked for me is a simple headband. They always seem to slide back and don't keep my hair out of my face.
Likes and Dislikes: I mainly wear Nike socks, spandex, sports bras and court shoes and I really like them. I have Mizuno kneepads that are very comfortable. The only types of equipment that I dislike are the headbands and some spandex shorts. Sometimes the shorts can be very tight and uncomfortable, but I have found a pair of Nike shorts that I really like and try to stick with those.
Better or Worse: The equipment has become better. The most prominent things that have changed are court shoes for volleyball. When I first started to play, the shoes were fine, but I finally found a court shoe I loved when Nike came out with their volleyball shoe.
For Girls Only: I mainly buy female-only equipment because it makes the most sense for the sport that I play. The shoes and kneepads fit me better than if I used men's kneepads and shoes.
Boys' Stuff?: Although I do buy unisex socks, I feel there's a difference between men's and female-specific equipment because of the sizing as well as the colors and variety available.
Where to Buy: I buy most of my athletic gear from Dick's because it's the most convenient and they have a lot of the things I need. I buy more sport-specific equipment, like my court shoes, online, which have more options available than the physical stores.
Favorite Gear: I love my Nike volleyball court shoes. They are so comfortable and I feel like I perform so much better when I wear them.
Horror Stories: I remember a friend's kneepad getting a big hole in it while she was playing, but I've never had a bad situation myself.
Message to the Industry: Keep on adding more variety to your athletic gear, whether that includes more styles of clothing or different colors for shirts. More diversity and variety are always good for us.‍
Ashley C., 16, Chicago, IL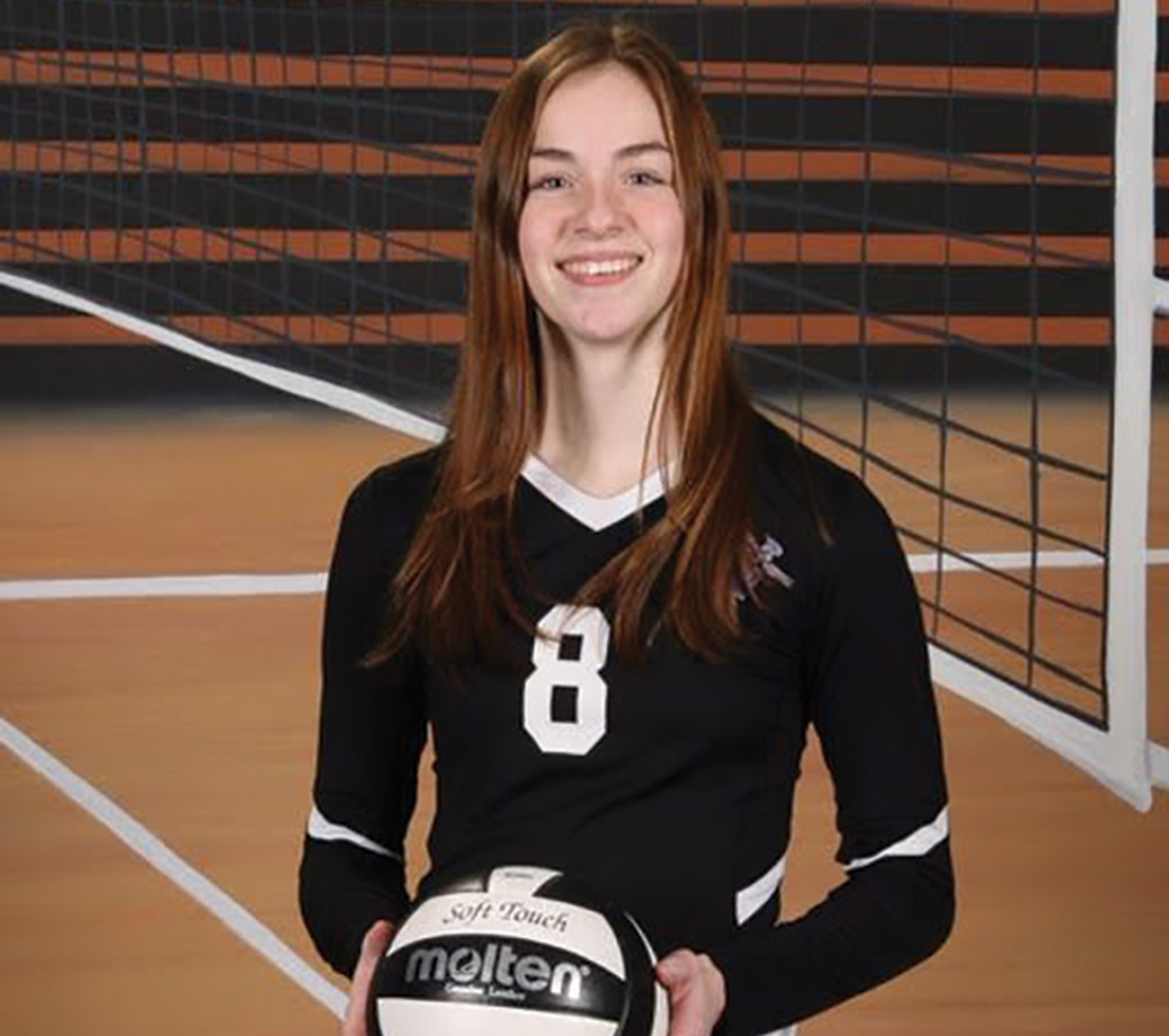 The Athlete: A high school junior, Ashley began playing volleyball at age 11 and looks to continue her athletic career in college. She plays on her school's squad as well as a local club team. Before focusing exclusively on volleyball in high school, Ashley played basketball and softball through eighth grade.
1-10: I would rate the equipment around a 7. The brands are doing a good job using comfortable, athletic materials, although I wish there was a larger variety of shoes and jerseys.
Likes and Dislikes: I really like the kneepads. Most brands create high-quality, sturdy material. The only spandex I like are from Nike and most of my teammates feel the same way. Other brands do not provide as much comfort. One especially frustrating thing is the limited selection of jerseys. As new styles of volleyball jerseys do not come out often, so many teams have the same jerseys.
For Girls Only: I buy female-only equipment. It just fits better and is different from what men would wear.
Boys' Stuff?: For shirts, I may buy unisex or men's because the size may fit better and I also don't like V-necks, which seem to be standard on many women's tees. On the footwear side, I almost always buy men's shoes for volleyball. Women's athletic shoes lack compared to men's options. If you look up women's volleyball shoes right now, only a few types will appear because brands don't really focus on making shoes specifically for women's volleyball. All my volleyball shoes have actually been men's basketball shoes. They are way more supportive and comfortable and come in a greater variety of styles and colors.
Where to Buy: My club provides most of my spandex and kneepads, which come from Nike since we partner with them. Other than that, I regularly go to the Nike website. Shopping online is much easier for me since I know all of my sizes now and trust Nike.
Favorite Gear: My favorite pieces of athletic gear are my Nike Kyrie 5 shoes. I customized them with a white-and-gray color scheme and the tongues have my name and number. I love designing the shoes and customizing them to make them represent me.
Message to the Industry: Create more types of spandex as well as shoes, especially for volleyball. The spandex shorts do not have different seams, which can make it difficult for people to find what is comfortable for them.

Madison C., 17, Oakland, NJ
‍
‍The Athlete: Madison has played basketball for 12 years and lacrosse for nine and is on her school's varsity teams in both sports.
1-10: I would give manufacturers an 8. But I wish my equipment was more efficient and durable because it's frustrating to buy new products after you've invested a ton of money. Every season I have to buy new basketball shoes, which are more than $100. This is an expensive investment and it would be more worthwhile if these sneakers lasted a couple more years.
Likes and Dislikes: I like that my uniforms in both sports are tank tops, so I'm less inclined to sweat. Nike makes our uniforms and I am very satisfied with them because they are easy to move in and are not too loose or tight. The sizing of the uniforms is accurate to the fit. I dislike our lacrosse apparel since it is from Nike and is expensive. I feel we are paying more for the brand than the actual apparel.
Better or Worse: Uniforms have improved for both sports. For basketball, we had the same uniforms for three years until they changed once I was a senior. They were nice to begin with, but the design for them was a lot better this year. For lacrosse, there was a major change in the uniforms. My freshman year we had short sleeves as tops, which everyone pretty much hated because you'd sweat a lot more  and you'd receive bad farmer's tans. After my freshman year, we changed over to razorbacks, which the team liked a lot better.
For Girls Only: For basketball, generally the same equipment is used for girls and boys. There's not much to say about that. Lacrosse, however, is very, very different. We are only required to have goggles, a mouthguard, stick and cleats/turf shoes. Clearly, the safety precautions are taken much seriously in boys' lacrosse. What's scary is that it's very common to get a concussion in girls' lacrosse since you aren't required to wear a helmet.
Boys' Stuff?: The only time I really buy equipment that is made for boys are my shoes for basketball. They don't make that many shoes for girls and the ones they do make are pretty ugly. The guys' shoes have more support and have nicer designs.
Where to Buy: I buy my sports stuff from Dick's. For lacrosse I buy from Lacrosse Unlimited (Ridgewood, NJ).
Favorite Gear: That has to be my lacrosse cleats. They're white Under Armour with a silver Under Armour logo on the side. They are cut above my ankle so I am given really good ankle support. Also, they look really nice and stylish with my white uniform.
Horror Stories: Yes, with my lacrosse stick. It was a STX 10 degree shaft and head and as I went through games and practices I noticed the head on my stick became loose. The screw keeping my head in place kept coming loose, so I'd be scared my head would completely come off some games. I would have to bring a screwdriver with me all the time to tighten the screw, which was very annoying.
Message to the Industry: Time should be critically taken in making the sports equipment. Safety of the players comes first. Also, I expect products that are expensive can be used for a long time. It's very irritating when the equipment you buy breaks only a few times you use it. Buying sports equipment is an investment and you expect your products to last.

Meagan S., 20, Hawthorne, NJ‍

The Athlete: Meagan is a part of The College of New Jersey's track and field team. Her specialization is throwing javelin, which she's been doing for about six years.
1-10: I would give the manufacturers a rank of 6 for the products I use. The quality of products I've used has been mediocre, neither great nor terrible.
Likes and Dislikes: I like the style and appearance of my apparel, but I dislike the quality and the lack of variety. For instance, my school's uniforms are sleek and represent my school's colors well, but they are designed specifically for one body type. For a team with such diverse body types, this can be frustrating and limiting to some athletes. In terms of footwear, I dislike how certain sneakers end up with holes near the toe. I've gone through three or four pairs in the last few years and all of them ended up with holes in them.
Boys' Stuff?: I have to buy footwear that is unisex or made for boys. Specifically, I have to buy men's javelin shoes, as there are little to no women's javelin spikes.
Where to Shop: When I was younger I bought apparel  from Sports Authority and other sports outlet stores. Now, though, I buy most of my sports apparel through my school's team store. For footwear, I have always bought online, since most stores don't sell javelin spikes.
Favorite Gear: Definitely my track backpack. There is so much room in it, which is super useful, and the backpack itself is really nice. I always feel proud when I wear it and represent my team.
Horror Stories: I don't know if I would qualify it as a horror story, but during one track meet I realized that at least three or four of the spikes from my javelin shoes had fallen out. This was a few moments before I had to go on the javelin runway, so I was panicking, but one of my teammates ended up letting me borrow some spikes.
Message to the Industry: Please be more gender specific when it comes to footwear. And consider making uniforms and apparel for people of all different sizes.

Maggie D., 12, Wilton, CT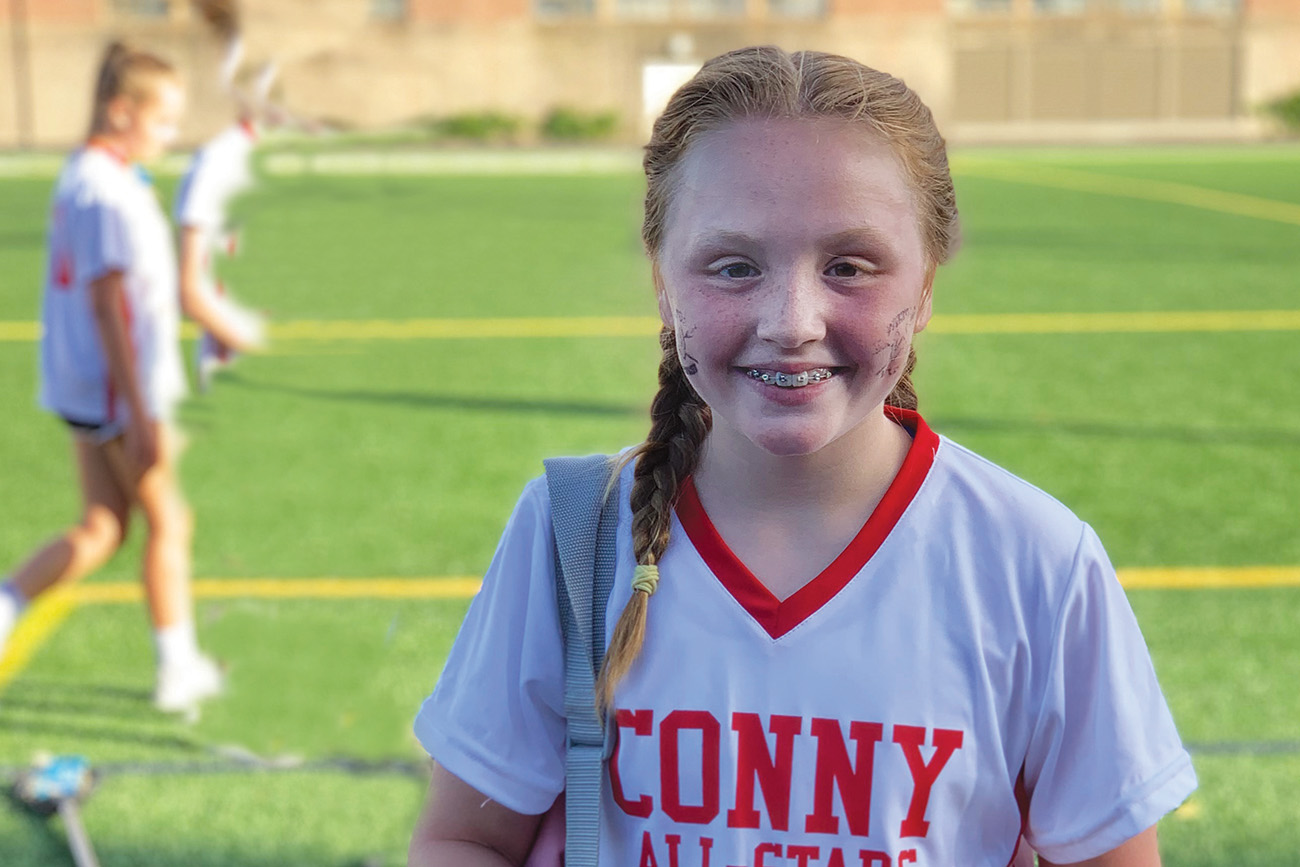 The Athlete: Young Maggie has played three years of travel field hockey and six years of travel and club lacrosse in her career.
1-10: Only a 5. There's some good stuff and some bad, but everything could use improvement.
Likes and Dislikes: I don't like the sizing on my cleats, especially the narrowness. My goggles can be annoying since the straps don't keep the size and I am constantly adjusting them. I like my field hockey shinguards because they fit like a sock. As for mouthguards, it is hard to find flavored ones when you have braces and they rip apart easily.
Better or Worse: My mom says that my field hockey shinguards are the same as when she played.
For Girls Only: You can find girls' lacrosse cleats easier now.
Boys' Stuff?: In the past it has been hard to find girls' lacrosse cleats, so I have worn boys' cleats.
Where to Buy: I shop mostly at Dick's. I used to go to a local sport shop, but it closed.
Favorite Gear: I have a fuzzy lacrosse fleece that I love.
Horror Stories: When I played soccer, I used to have to wrestle with the socks, they were so tight.
Message to the Industry: Make lacrosse cleats easier to get on and off, because of the high top and so many laces. And please make mouthguards more durable. I go through three or four mouthguards a season because they tear apart.

Rachel C., 16, Mountain Lakes, NJ

The Athlete: Rachel is a high school junior currently playing club and high school volleyball on a 17 Premier team and varsity basketball. She plans to play volleyball in college.
1-10: I would give my volleyball apparel and uniforms a 6 because for club they used a brand called Customfuze and I personally think it isn't a very good or even comfortable brand. My uniform that I got was supposed to fit-to-size, but it actually is pretty tight. For my high school volleyball team, I would give my uniform a 9 because we use Under Armour. For volleyball shoes I would give them a 2 because there are not many made specifically for volleyball. On the other hand, I would give my basketball apparel a 9 and my uniforms an 8 because my apparel is always from Under Armour and it is quality material. The boys' uniforms for my high school are really nice and I wish we had them too.
Likes and Dislikes: For my basketball team the seniors make a different logo and model each year for the uniforms. It makes every year's clothing unique to that specific group of players. I also like how my club volleyball and high school volleyball uniforms look very professional. But sometimes we will use a weird brand for equipment and apparel and most times it's very unpleasing and uncomfortable. I wish my teams would just use Nike or Under Armour for everything.
Better or Worse: All of my uniforms have stayed the same, especially for high school. We have not updated our uniforms, unlike the boys' basketball team, which got new uniforms a couple of years ago. For volleyball, they have been the same, but I am okay with that because I like the way they look.
For Girls Only: I feel like there has been the same amount of women's equipment, especially shoes. Every time I go onto the Dick's Sporting Goods website and search up volleyball sneakers I find the same exact shoes as the last time I searched. There are never any new models, whereas for men's basketball they come up with new models almost every week. I actually am really upset by this.
Boys' Stuff?: I always buy my basketball sneakers in the men's section because I just like the designs more. I wish they made really cool models for women, but they just don't right now. And I buy women's volleyball sneakers because that's all they have.
Where to Shop: I usually buy my sports stuff from a Dick's Sporting Goods that is about 15 minutes from my house or I will buy things online.
Favorite Gear: My shoes and sweatshirts. Shoes are the centerpiece for my uniform and even in everyday outfits. I usually wear athletic clothes to school, so I try to build my outfit around my shoes. I have two really cool pairs of sneakers from Nike that I wear all the time. I also love wearing my sweatshirts.
Horror Stories: I don't personally have any horror stories, but in my sophomore year during high school basketball season one of my teammates showed up to a game with a blue uniform that was supposed to be a white uniform. When she washed her white clothes and the uniform, there was some blue clothing in the wash that turned her white uniform blue.
Message to the Industry: Please make more apparel and sneakers for women and girls. Also, please continue to put out new products and models for volleyball and basketball. And please make sure they are comfortable so that the athletes can play hard without worrying about their uniforms or equipment.

Rachel H. 17, West Palm Beach, FL
The Athlete: Born in California to Sri Lankan parents, Rachel plays varsity basketball, softball, soccer and volleyball and ran cross-country. A very busy young woman, this winter she played both varsity soccer and basketball and was a captain on both teams. Admittedly, she was a little tired at times.
1-10 : I use Shock Doctor ankle braces and McDavid knee pads. I would give the manufactures for my ankle braces a 10 because they have lasted since middle school. I would give my kneepads a solid 8 due to their quality and ability to protect my ankle and knees. My shoes have always been from Nike and they have never let my down, whether it came down to grip or comfort.
Better or Worse: When I first started playing sports I was always coming home with scrapes on my knees and sore ankles because I didn't have the proper stability. After getting the kneepads and ankle braces, I have better support and have never doubted them during game time.
Likes and Dislikes: My equipment is always being made better. It allows me to count on the company to come out with a better product that will give me more stability. I dislike how easy kneepads can rip after a few games. Although they last me a whole season, they still rip pretty easily.
Better or Worse: This equipment has definitely improved because the manufacturers found ways to improve the stability and quality in the products.
Where to Buy: I buy my sports gear at Dick's Sporting Goods and my shoes are purchased at Foot Locker.
Message to the Industry: I am very thankful to use products that are created with the intention of making sure athletes like me are constantly protected from injury. I feel safe when I wear my gear and I know I can rely on them during game time.