Best Foot Forward
Late ordering means a trend to solid, stock socks as everyone awaits what happens next.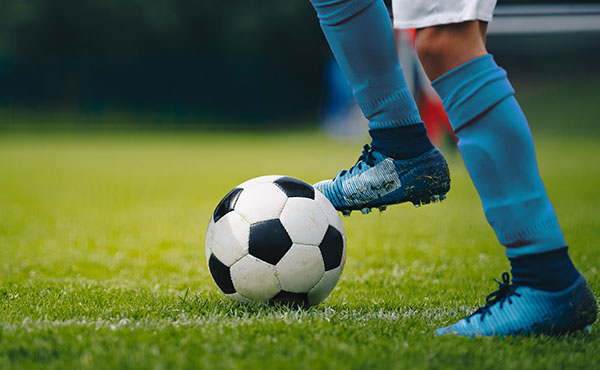 After a tough couple of months – to say the least – the team business wants to get back to normal — or something close to it. The best we can do right now is take it one day at a time, to put our best foot forward as it were.
After all, the no-show – and ankle-length, calf and compression sock – must go on! In light of the COVID-19 business challenges, dealers still have to sell socks.
While everyone is doing what's best to ensure safe footing going forward, there is no "one size fits all" solution. Questions about the resumption of school and league sports will be answered in time on a state-by-state basis. There are concerns about lack of confidence on the part of athletes to play in the upcoming seasons. And concerns over a new reality are peppered with ongoing disruptions to the global supply chains, something vitally important to the sock business.
"The pandemic has had a huge impact on our business and everyone in the sporting goods industry. Like many we are eager for sports to start back up, but in the same breath want to make sure it is done in the safest possible way," says Brad Davis, VP–sales, Twin City Knitting.

Pull Up Your Socks
While schools, leagues and plants were shut down the past few months, team dealers have done what they could to prepare, fill any online orders and stay in touch with customers to anticipate needs. Now everyone is waiting for things to reopen, to hear what sports will play and what that will look like.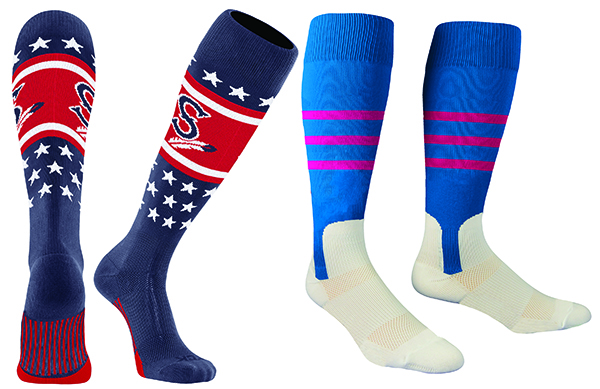 "We will make it; we'll get back up," says Frank Robinson, general manager at T&G Allsports, Fayetteville, GA. "A few of us have been in the store the entire time to fill and process online orders. Right now everything is still up in the air, but at some point you're going to have to open up or you'll be broke."
Georgia opened things up earlier than most states, but a lot of restrictions were initially put in place. "Nothing will be as it was," says Robinson. He cites a long list of things that need to be done in order to open, including sanitizing the store, taking employee temperatures every day, providing return bins for customers to use for returned items and limiting the number of people in the store at any one time.
The doors are open at Bush-Wells Sporting Goods, Casper, WY, says owner Terry Nelson. "With our little 550,000 people population, we haven't been hit as hard as other states, although our spring sports were cancelled. Right now we're open 10-to-3, six days a week, and we're busy right doing what we can, including taking fall orders," says retail manager Kirk Nelson.
Last year the state of Wyoming approved softball as a school sport, which means some more sock sales. "It's some good news that softball will bring us new business," says Nelson.
"I've sold a few practice items for football, but there's a lot of anxiety out there and everyone is being cautious about buying things," says Scott Eriks, owner of Varsity Sports, Griffith, IN. "Here's the current reality: You can take a team order, but then they call to ask you to hold off because the date was pushed back. Then they call back because they think the season will be cancelled, and then they call again because maybe they'll still have the season."
The question of whether or not schools will reopen and fall sports be played hangs over the immediate future of the sock business.
"We'll have no leagues this summer, but we're hoping schools will start up in the fall. Coaches may have to adjust schedules; maybe football practice starts a few weeks earlier. That will put more of a rush on things getting started," says Danny Sutton, sales manager at Bacon & Company, Knoxville, TN. "We'll play again, but no one knows when."  
"My guess is sports will be played in the fall, but it may look very different," adds TCK's Davis, possibly with no fans, or required temperature readings and facemask required to attend. "Teams and players may also be required to do the same thing prior to playing and we will see a lot more forearm bumps than high fives."  
Hope springs eternal. "This is SEC territory and we just cannot imagine a fall without football. Our school football orders have been placed, so we'll see," says Robinson.  
Athletic directors, coaches, league organizers, boosters clubs and all athletic associates with purchasing power nationwide have been forced to reconsider their typical spending habits, socks included. All the uncertainty translates to short windows for orders when sports do resume. Quick turn items are likely to be in demand. That means planning for lots of solid socks in school colors instead of custom socks.

Ripple Effect on Socks
"Uncertainty about when teams and organizations will play again is translating to customer buying habits and many dealers feel the ripple effect and have put their projects and purchasing on hold," says Christian Stagg, sales manager at Pearsox.
"There's pent-up demand out there and some have held off on purchases, so we expect orders to come in late," says Sutton. "From a practical standpoint, most teams will settle on a couple of solid colors, two or three pairs of each, either crews, over-the-calf or three-stripe. Most of the sublimated socks with logos will be gone. Hopefully we'll be able to find the vendors."
"When things open up, I anticipate a rush to get things going and to get orders in. I expect that will mean solid socks rather than custom," says Eriks.
"We normally carry some good sock lines in our store, but things are not normal," says Nelson. "I don't think we'll be ordering fall socks until later in the summer, so we'll see what's happening by then."
Supply chain anxiety has dealers worried that stock socks will become the next toilet paper. "When things do open up, I don't see how we'll get orders filled in a timely manner," says Robinson. "It will be like hand sanitizer and toilet paper; you just may not be able to get it. We withheld our booking orders for fall. The one thing I do have coming in is from Adidas."
"If it happens that sports are played this fall, socks will be plain, not custom. And that in turn means there will be a mad rush for plain socks," says Robinson. "We use Champro, TCK and Pearsox. I don't see us doing custom socks unless booster clubs decide to order, because if I order them and they don't play, next year they'll want a different style and we'll be stuck. And it goes like that down the line of athletic items."
For their part, sock vendors are anticipating needs and preparing inventories for a robust demand for stock socks. "Remember all of the stock sock options," says Davis. "Although we love our custom business at TCK, we are prepared to serve our dealers with all of their last-second opportunities that will be created as sports ramp back up."  

Maintaining Inventory Levels
Vendors are doing their best to prepare for coming sales and minimize disruptions.
"It's important to maintain inventory levels that are suitable to accommodate a typical sales volume, while avoiding unnecessary overhead. We are loaded for bear and ready for a robust resumption of sales," says Jesse Baldwin, sales manager at Pearsox. "Nonetheless, we will continually monitor any shipment and travel delays caused by this pandemic in order to avoid an interruption in the service."
"Team dealers and buyers need to keep in mind the impact to the supply chain as we have seen disruption from manufacturing to shipping," says Nathan Cook, president of Ecosox. "This puts dealers and buyers in a tough position as they will have less time to assess their needs and there is a need for them to place orders as early as possible."
While demand for both domestic and import products has been affected, custom socks have been hit hard.
"The custom sock business took a hit in the spring and will probably do so again in the fall," says Josh Wintermantle, CEO of HypeSocks. He suggests using custom socks as fundraisers, in a time when many programs will be in need to raise additional funds. "With schools and teams hurt by no gate revenues, fundraising can be a boon to booster clubs and organizations."
While ordering of custom team socks appears like a non-starter because of tight windows, Pearsox suggests planning ahead for custom sock orders. "Sports will resume and teams will need their product quickly," says Stagg. To help save time later, PearSox is offering free mockups for custom products during COVID-19 and waiving art fees on orders placed based off mocks created during the pandemic.
For the most part, orders for branded socks have already been placed for schools and clubs that purchase branded uniforms.
"We carry some basic inventory for all school deals with Adidas and Under Armour," says Sutton. "Those teams want to play in Adidas or Under Armour socks and those are already ordered. We'll see how the supply chain works with our on-demand sock orders, whereas a branded school has already ordered accessories, including socks."
There is light at the end of the tunnel and everyone is hoping for a strong bounce back in the fall.
"I believe there will be a stronger than usual surge in sales when we do resume, but most organizations will see a return rate far less than 100 percent," says Baldwin. "After such a lengthy hiatus, athletes everywhere will have an especially strong desire to make up lost time, lost games, lost seasons. While it's nice to think about things going back to normal, the reality is it may take a while."
‍
Stepping Up To Help
‍
"You have to do everything you can. You have to work your hardest. And if you stay positive you have a shot at a silver lining."  Silver Linings Playbook
‍
Americans are generous and come together in times of trouble. Many sock companies responded proactively to the pandemic, taking care of their employees, donating socks and making masks and PPE.  We've seen pandemic-inspired socks featuring hand sanitizer and toilet paper to raise money for food banks and donations of compression socks to healthcare workers on their feet all day.
One particularly inspirational example is Fox River Mills/Red Lion design and production of the C156n FlexFit Mask. This powerful, reusable facemask is manufactured using Cupron, an antimicrobial technology embedded in garments that won't wash out.  
"The design of these reusable facemasks is ingenious. The C156n FlexFit Mask is knitted on traditional circular knit sock machines. We are the first to create a wearable mask on a sock machine," says chief merchant Scott Little. "There is no cut and sew. Each mask is seamless and comes off the machine as a whole garment. No sewing or additional labor means fewer people are handling the product in our factory. They go straight from the machine into our protective poly bag packaging and then shipped to the customer."
Here are other examples of sock companies stepping up to help:
Ecosox: "EcoSox continues to donate socks to organizations that make requests," says president Nathan Cook. "Right now we have about 6600 units of two-pack tie dye soccer socks that we are looking to donate to a non-profit soccer/sports league."
Hype Socks: "Our company has made masks for our employees and their families," says CEO Josh Wintermantle. "Additionally, we have focused on donating socks during this time."  
Pearsox: "Working at Pearsox means you are part of the Pearsox family and in difficult times family takes care of one another," says Scott Schulman, executive VP. "We are extremely proud that our company was able to retain 100 percent of our employees, offering them their usual salary and health benefits."
Twin City Knitting: "We have worked to develop mask using our knitting technology and cut and sew operations," says Brad Davis. "It is created with two layers of fabric and allows for an additional filter insert. We are providing them to our employees when they return back full time and we are looking to supply them to local organizations."
Gildan: Gildan has joined forces with various partners to produce non-medical facemasks and isolation gowns in support of the global fight against the COVID-19 pandemic. It mobilized a team of experts to develop and implement stringent processes to protect employees coming back to work.