Setting Goals
The importance of having goals has taken on a whole new meaning in the time of COVID-19. Stay-at-home has meant an uptick in sales of backyard goals and nets, but with distribution turned upside down and entire seasons cancelled, vendors and dealers are looking ahead to a time when players return to the fields where they belong. Here the leading suppliers of goals and nets to the team business give their advice on how to be ready when a "new normal" takes hold and demand grows as the games return.
Bownet Sports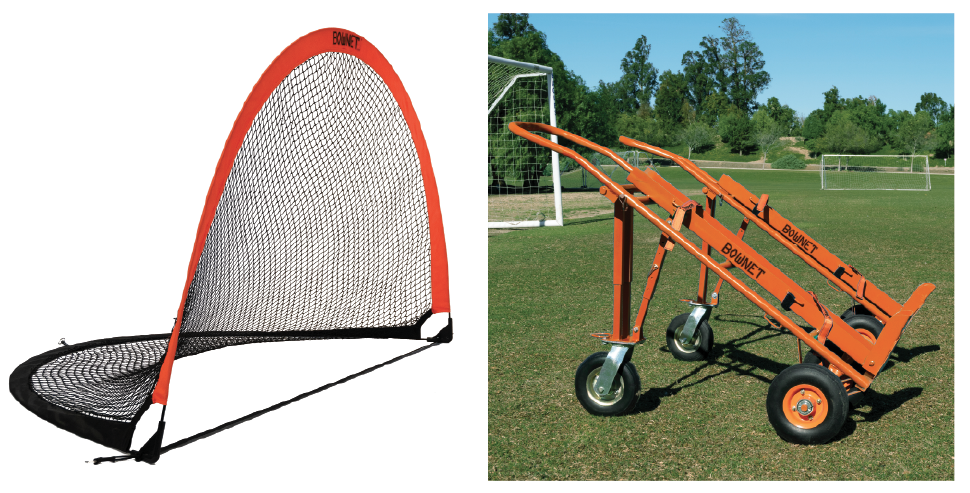 Jonathan Hayden, CMO

2020 Trends: With most people sheltering at home and since Bownet makes portable training equipment, we've seen a trend in orders from dealers who have web-based business. We expect this trend to continue for some time.
The Sales Pitch: Offer portable nets and accessories to players who are mainly at home to keep up their skills by practicing at home.
Advice for Dealers: Stay in contact with your customer base. Communicate to them how they can train at home with products so they can keep up their skills and will be ready when things start to open up again.
The COVID-19 Impact: This pandemic has been a serious challenge for everyone both in business and personally. Bownet, like every other business, has had to make difficult adjustments in the wake of the significant changes brought by the COVID-19 response. It has not been possible to anticipate when business will be getting back to some form of normal. However, we are hopeful that as states begin to open up and schools are allowed to start back in the fall that business will pick up to near normal levels. Social media give-a-ways are one way we are helping players who are at home — giving away a BMX net in a contest on Instagram, for example. Bownet is an Official Product Sponsor of Team USA Softball and we are providing members full COVID Training Kits so they can training at home.
‍Product Update:
‍PopUp 6 . A set of two 6-foot Quick PopUp Soccer Goals for quick games, practice drills or backyard play.
BN Goal Mover: A set of two Goal Mover carts to make It easy to move hard-pole goals. Strap the cart to the pole, tilt over on the cart's wheels and roll the goal on or off the field.
MagMan Wall. A set of four MagMan defenders that can be placed on a patented frame to create wall of PKs or used individually as defenders in space.
Carron Net
Russ Schirmer, Director of Sales

2020 Trends: Demand has only gotten stronger for quality U.S.-made nets, continuing a trend we've seen over the last few years as the disillusionment with the generally poor quality and short lifespan of offshore products has now been coupled with the difficulty of actually getting them.
The Sales Pitch: This a good time for team dealers to reinforce with their customers that continually replacing cheap nets is more costly in the long run than installing quality nets in the first place. It's also a great time to be supporting American workers.
Advice for Dealers: With schools and parks closed, it is actually a great time to install netting so that when this passes (as all things do) everyone can quickly get back to the sports that they love. That means end clients should be considering the condition of their divider and ball barrier curtains, batting cages, goals and rebounders, etc. Spectator protection can also be addressed, including extending foul ball netting, overhead mesh for common concession/seating areas and mezzanines. As dealers speak with their customers, these are important topics to discuss. Budgets for these items still exist and with so many netting options to choose from, whether the netting is for practice, game time or spectator safety, quality doesn't need to break the bank.  
The COVID-19 Impact: COVID-19 has created an unprecedented challenge for both our team dealers and us, but there are still opportunities for sales out there. While there has been an obvious disruption, the demand has only gotten stronger for quality U.S.-made nets, including goal nets. We look forward to strong fall and winter sport seasons!
Champion Sports
Zachary Meller, Executive Vice President
2020 Trends: The trend in the goal category continues to be all about versatility, portability and durable material construction.

The Sales Pitch: Highlight the quality of the product build and materials — advancements in portable goal construction give the newest models more stability, balance and flexibility upon impact. These goals are durable enough to be used on-field for play or practice and versatile enough to be used in the backyard and stored at home.  
Advice for Dealers: Portable nets should be the highlight during this time due to the fact that they can be used in the backyard or the driveway during time at home and then easily transported to the playing field once training, practices and competition start up again.
The COVID-19 Impact: The largest impact COVID-19 has had on our business has been the shift in demand from products geared towards the dealer and educational markets to the more individualized product segments such as fitness and at-home training aids (from medicine balls to rebounders, portable nets and backyard games).
Product Update: We continue to push forward with advancements of entire line of Rhino Flex products — from soccer and lacrosse goals to barrier nets to numerous baseball training aids.
Bison
Chris Livingston- Sales Manager  
2020 Trends: We're just hoping the current trend of slow sales improves and that the overall economy rebounds.
The Sales Pitch: At some point, schools and facilities are going to get the go-ahead to resume their normal schedules. In the meantime, maintaining contact with those places and knowing what their needs are will lead to sales. That's where Bison can help. We've also taken this time to increase our inventory in key categories to be prepared.
Advice for Dealers: We are hearing from schools that they are using this time to inspect and maintain their sports equipment when there are no students in school. Bison has a free facility safety checklist available at bisoninc.com/facility-safety/. Bison is proud to partner with organizations like the National Federation of State High School Associations, which has expanded its selection of free classes at NFHSLearn.com site, so that's another important resource dealers can share with their customers.
The COVID-19 Impact:  It's certainly caused a slowdown for sales, but we've been busy enough that we've avoided any layoffs or other large changes to our workforce. Our employees have done a great job of following the social distancing guidelines and we can't thank them enough. We've also been working on process improvements and other projects to improve our overall ability to serve our dealers. It's too early to tell what the rest of this year will bring, but we're committed to staying ready for our customers when they need us.
Product Update: We've added a newer price-point option for volleyball that includes an internal lead screw for fine tuning the net height. We have this in one of our CarbonMax systems, but carbon systems can be out of many budgets. The new VB1100 EZ is the same basic design as our Centerline Elite Aluminum system, but with the premium feature of a fine tuning lead screw that allows net height adjustment without loosening the net.
Gill Athletics
Steve Vogelsang, VP–Sales and Marketing, Team Sports

Advice for Dealers: Now more than ever you should approach your customers with empathy and understanding. Likely much has changed in their school and uncertainties abound. We all miss team sports and are looking for ways to get back to the fields and courts.
The COVID-19 Impact: Our team sports partners have been substantially impacted by loss of access to their school customers, along with uncertainty about school budgets and spending. Only now are some schools deciding how they will proceed with fall preparations. We have seen team sports equipment purchases reduced by over half. On the other hand, schools continue with already scheduled athletic facility renovation or construction projects. We forecast a slow rebound in team sports equipment purchases beginning late summer/early fall, and facility construction and renovation to remain solid through Spring 2021.

Mike Cunningham, National Sales Manager

2020 Trends: Coaches and facility managers of outdoor multi-use fields want to reduce the amount of holes put in their turf. We've seen demand for our portable World Cup Soccer Goals (photo below) because of this. These goals eliminate unnecessary holes for backstays and uprights, which increases the life of their turf field and increases the safety of the pitch for all participants
Advice for Dealers: Talk with the coaches and athletic directors directly. Find out what they are uniquely dealing with. Don't assume everyone is being affected the same way. You are creative in your service to your customers before these difficult times; it's time to continue that personal creativity service-based culture.

Tim Glover, Field Sports Sales Estimator

2020 Trends: We are seeing more and more safety netting systems requested as facilities are consolidating down to one main field. These multi-purpose fields often host football, soccer, lacrosse and even practice for other sports. Space constraints create the need for facilities to use ball stop systems to keep everything organized and in appropriate containment.
The COVID-19 Impact: Athletic facility construction projects are still progressing, if not increasing. Most areas of the country consider school construction to be essential operations, so this business has been minimally impacted. We expect that to continue through the fall.
Porter Athletic
Shelby Howard, Volleyball Specialist

2020 Trends: In the volleyball world, we are seeing the market moving toward super light, super strong carbon fiber net systems.
The Sales Pitch: Coaches who are concerned with moving and setting up heavy poles appreciate the super lightweight carbon poles. They also appreciate that carbon is stiff and strong and provides consistent and easy court set up.
Advice for Dealers: With spring sports cancelled, now is the time to reach out to your volleyball coaches. Lead with empathy and understanding. We are all facing uncertainty. If your coach is ready to think about the upcoming season, discover if there is a need for new net system. Discovering your coach's pain points are extremely important so you can provide the right solution.  
Product Update: Porter's new Powr-Select winch is compatible with 3-inch or 3.5-inch diameter standards. The Powr-Select's bronze and steel worm gear is engineered to deliver long-lasting performance and reliability. It is designed for volleyball facilities hosting high-level competition and looking for a dependable, smooth net tensioning winch.

Sidney Overman, Basketball Equipment Specialist

2020 Trends: We continue to see high schools and colleges strive to get the best goal for their budget. I think we will continue to see improvements for both the flex and breakaway competition goals.
The Sales Pitch: The most important thing for team dealers is to find out what level will be playing the new goals, if the coach/customer has a preference between flex and breakaway, which will narrow their choices, and what their budget is for their purchase.
The COVID-19 Impact: It has greatly affected the court sports selling season. I've seen a decrease in quote requests and orders for any basketball equipment because of the shutdown of schools and park districts. In uncharted times such as these, it can be very difficult to have a positive outlook because we cannot see a definite end to this pandemic. I will continue to be a realist with a touch of optimism because I choose to believe that the fall season can happen and that we will see sports again before 2021.
Product Update: A new goal – Porter TFX – is targeted for arenas and high-level competition. We also rebranded of our line of breakaway and flex goals to make it more straightforward for dealers and customers to know what type of goal they are getting.
Champro
Matt Klein, Senior Product Manage
2020 Trends: Given these unprecedented times, trying to predict what the fall of 2020 will shape up to become is a challenge. However, there are plans to target quick set-up/take-down style goals to facilitate the on/off-field exposure for teams and players who are allowed to participate in team events. Since we don't control when organized team events can resume, we are targeting quick action play style goals that cover a broader style of play from on-field to the backyard.
The Sales Pitch: We need to push activity in an organized and controlled space. As social distancing is becoming the new norm, soccer camps in most states have been delayed. Providing a product that gives the customer an outlet to participate at home or in a large space allows them to continue to grow their skills while adhering to social distancing practices.
Advice for Dealers: Dealers should look to sell goals that set up quickly and have a reduced footprint. Inform the customer that pop-up goals and skills trainers allow the customer to participate in soccer until sports return to action. The current design of the Champro's Brute (photo below left) and MVP (photo below right)  goals are great examples of soccer goals that can be used while confined to reduced areas.
The COVID-19 Impact: Without question COVID-19 has impacted our business. However, it has allowed us to review more cohesive strategies for enhanced sell-through with our dealers and customers as we plan for the Fall 2020 season. We are continuing to develop and introduce new product that will positively achieve the needs of our customer base into the future.
Product Update: Products for 2020 were developed through heavy research and detailed examination to meet the customers' needs of being ready to play out of the box. Our goal is to allow the dealers and customers to easily achieve their playing windows in a shortened season.