Build That Unform (And Cap and Socks)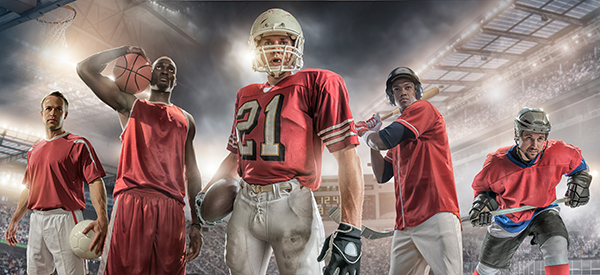 The proliferation of  online Uniform Builders being offered by almost all of the major apparel, sock and headwear vendors is perhaps the most effective use of technology for team dealers. When combined with online team stores, dealers can offer their customers services unheard of even a few years ago. Team Insight asked these major vendors to explain the capabilities of their online Uniform Builders and their benefits to team  dealers and their customers.
A4
https://customa4.com/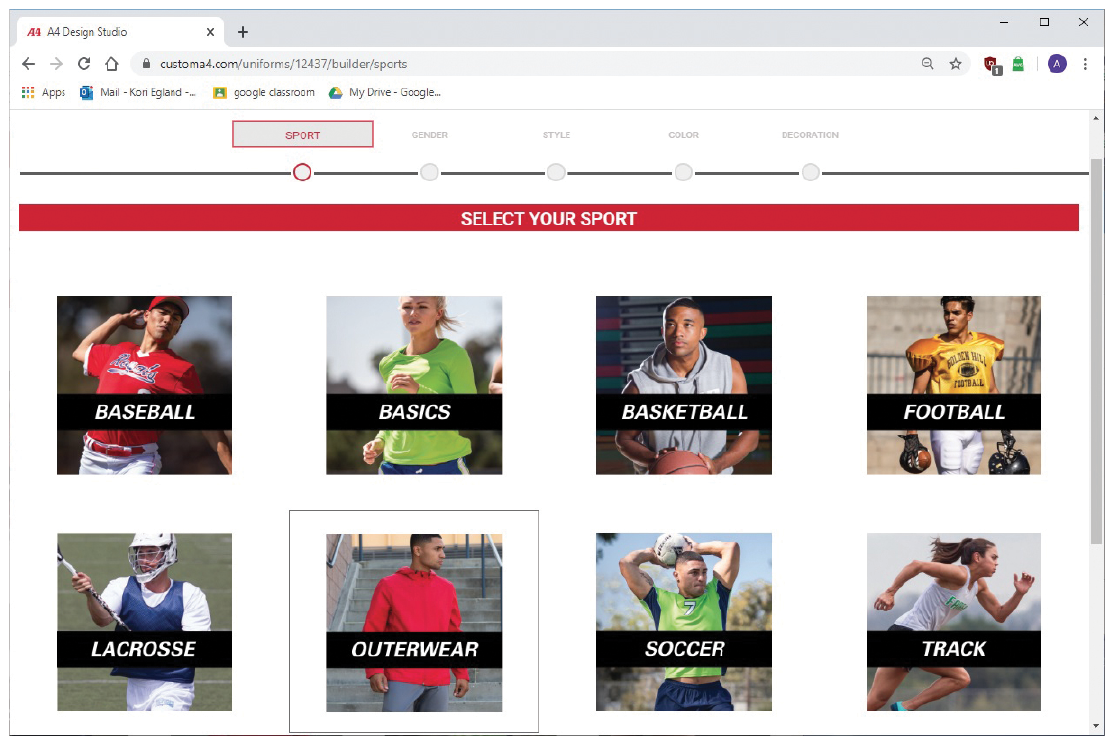 ‍Features: Decorate using four different methods: Screenprint, heat transfer, embroidery and tackle twill. Designs can be organized in lockers for easy retrieval. Each design can be exported to share with others for input or pre-approval. Rosters with player names and numbers can be added to any order, and also saved for future use. All orders receive an art proof, so customers see exactly how the garment will look prior to decoration.
Augusta Sportswear Brands
Augustaportswear.com/Sublimation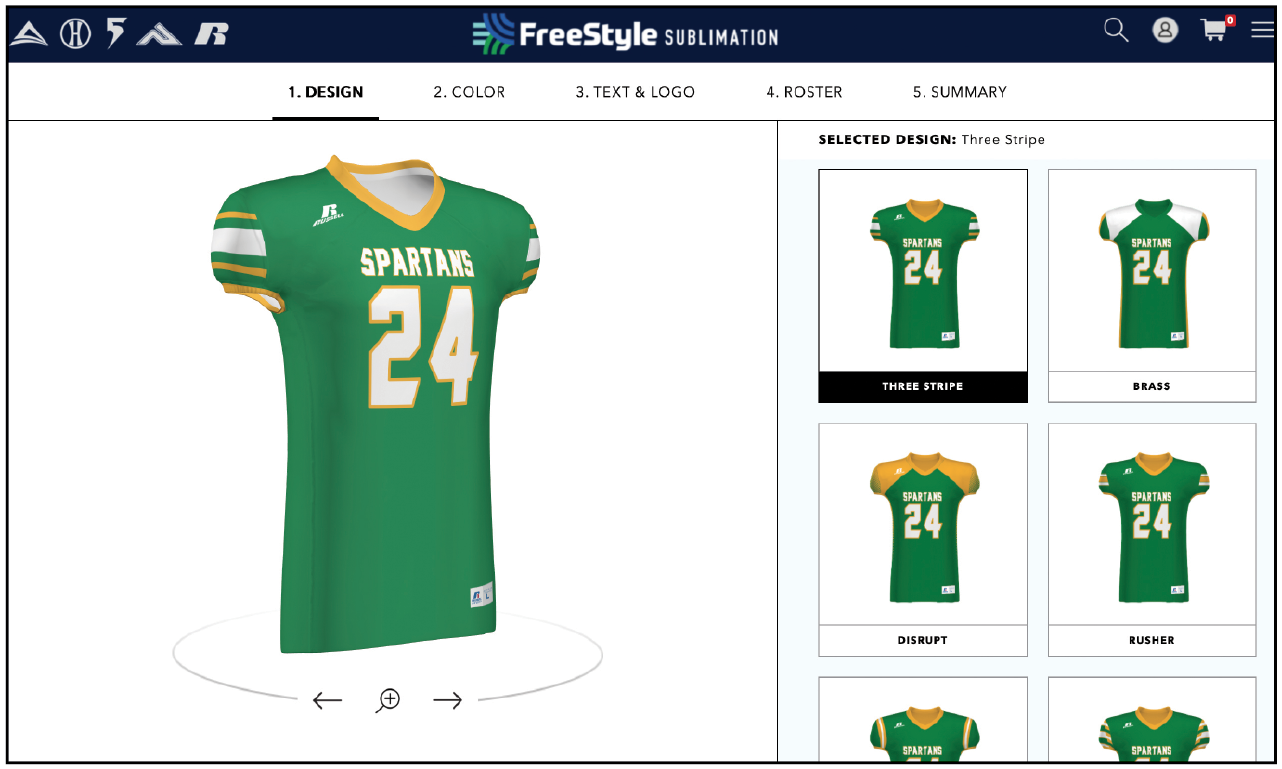 Features: The FreeStyle Sublimation mobile interface gives users a bold 3D – 360 degree garment view. A user can create a custom design within seconds. Whether on desktop, tablet or mobile device, the sublimation design process requires just a handful of simple steps from start to finish.
Recent Upgrades: The Russell Athletic brand was recently added to the FreeStyle platform, extending all the features of FreeStyle including realistic 3D images to the Russell Athletic sublimation assortment. Also added checkout functionality to speed up the order process and allow customers to order sublimated and stock product together.
Future Upgrades: FreeStyle sublimation is always evolving. We will continue to invest and aggressively add features to help our partners grow their business. We have a number of exciting features planned to launch in 2020.
Champro
ub.champrosports.com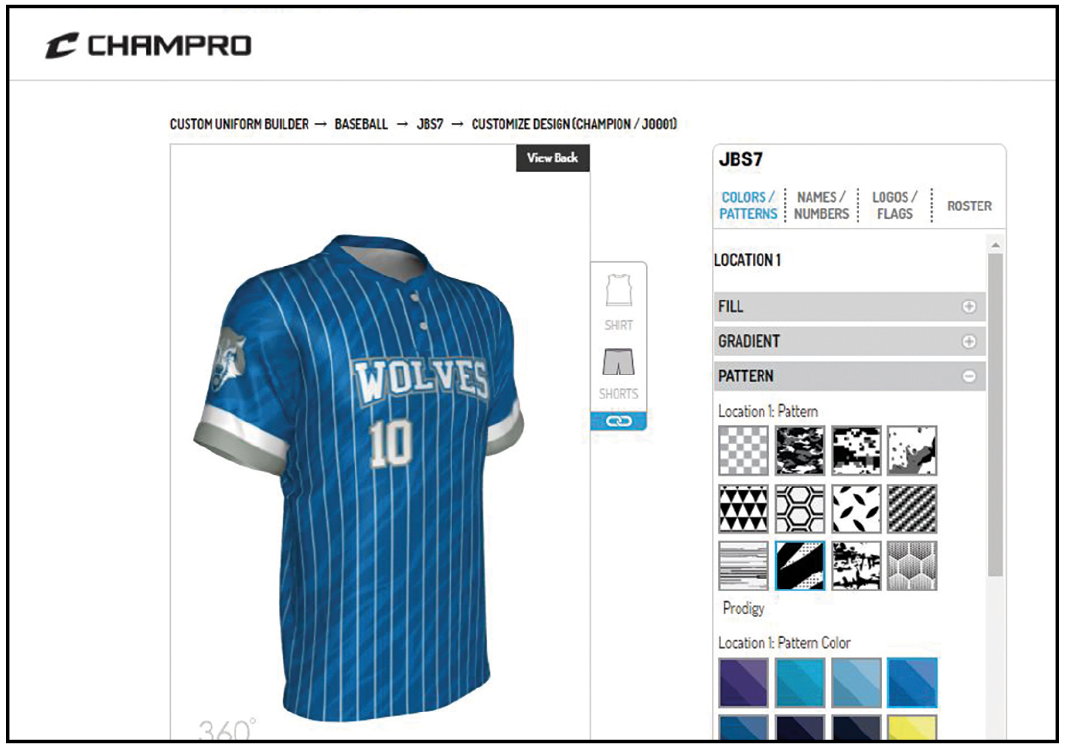 Features: The big story for Champro is the upcoming release of a Custom Builder. The new builder will feature high-quality 3D previews of all of our custom apparel and promotional products. The entire process and user experience will be a massive improvement over our current builder. All of our color palettes (standard, light and dark) and patterns will be available. Type styling and setting will have many options, including presets for the most popular effects such as arch, bridge and bowtie. Our entire stock logo menu will be available and have user defined color controls to create the perfect look. User experience was a key focus in the development of the new Custom Builder. The journey from product selection, to customizing and ordering is designed to be as intuitive and simple as possible. When combined with the enhanced feature sets and 3D preview, the next generation Champro Custom Builder will be one of the most comprehensive and exciting builders in the industry.
Cliff Keen Athletic
www.cliffkeen.com/category/5/uniform-builder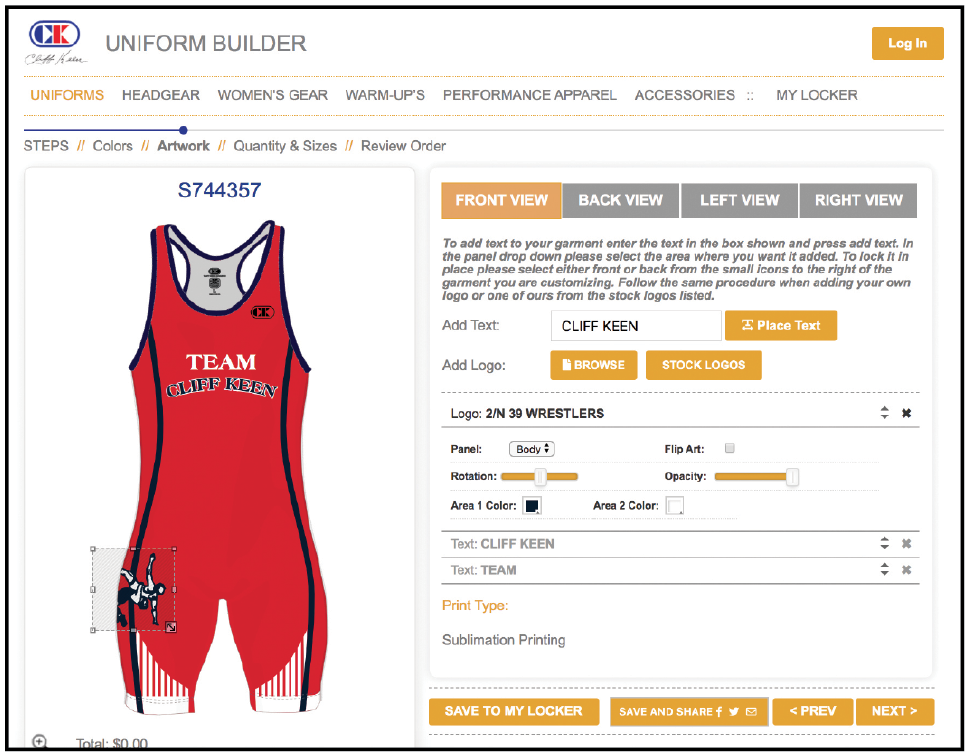 Features: Customize and upload your own unique artwork. Designs can be submitted or emailed to dealers, shared via social media or saved in your own "locker" for future reference. Easy navigation and loads of options make Cliff Keen's Uniform Builder a popular sales tool!
Recent Upgrades: Dealers can now log in via a B2B portal, build their own designs for their programs and then submit or email those designs directly to Cliff Keen with their purchase order, thus greatly reducing the amount of guesswork and back and forth with multiple mock-ups.
Future Upgrades: Our next phase of the Uniform Builder will make it even easier for customers to build and submit orders. Future expansion of styles and customization options will make it an even more powerful sales tool for our dealer network.
D1 Sports
https://builder.d1team.com/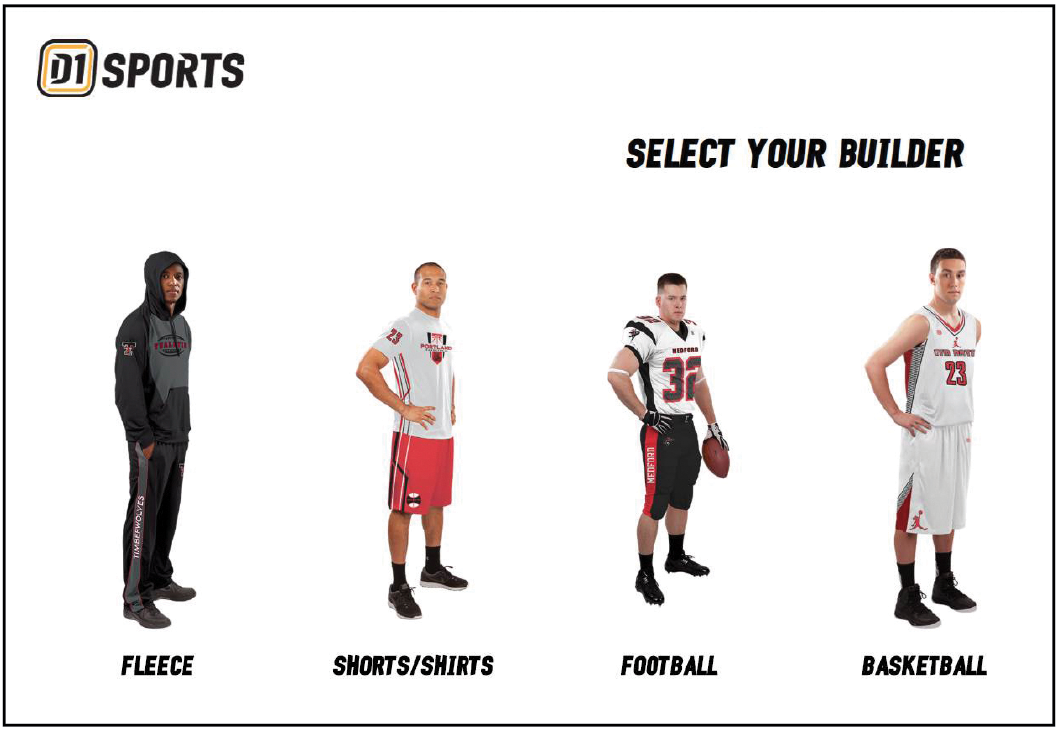 Features: Easy to use on any device. Apparel for all sports. Pick a style, choose a color, upload logos, print a comp sheet, enter sizes and submit the order. All sublimated needs available in one place.
Recent Upgrades: In January we completed our upgrade to HTML 5. This allows for the builder to be used on any device. Mock-up on your phone while talking to your customer. Submit the order quickly and easily.
Future Upgrades: Using customer feedback, we plan to expand our Spring Sports offering in 2021 and allow for sizing and placement of artwork.
Founder Sport Group
Alleson Athletic, Badger Sport, ProSphere and Garb Athletic
FounderSport.com
FSGDal.com
GarbAthletics.com
Features: Our stock builder allows dealers to quickly and efficiently add team names, player names and logos for our stock performance wear. We accept art in any format and our art team converts to vector format for crisp screenprinting. The Alleson uniform builder features the most sports, designs and colors in the industry. This robust builder is used for stock and custom sublimated uniforms. It gives the dealer full control to personalize team and player names and logos, as well as time-saving home/away uniform creation.
Recent Upgrades: Over the past several months, we have piloted a showroom for uniforms. The concept is to let users quickly browse options in their sport and their team colors without getting bogged down.
Future Upgrades: We are working to harmonize across the three brands to give dealers a single source for all Founder Sport brands.
FSG America
www.fsgamerica.com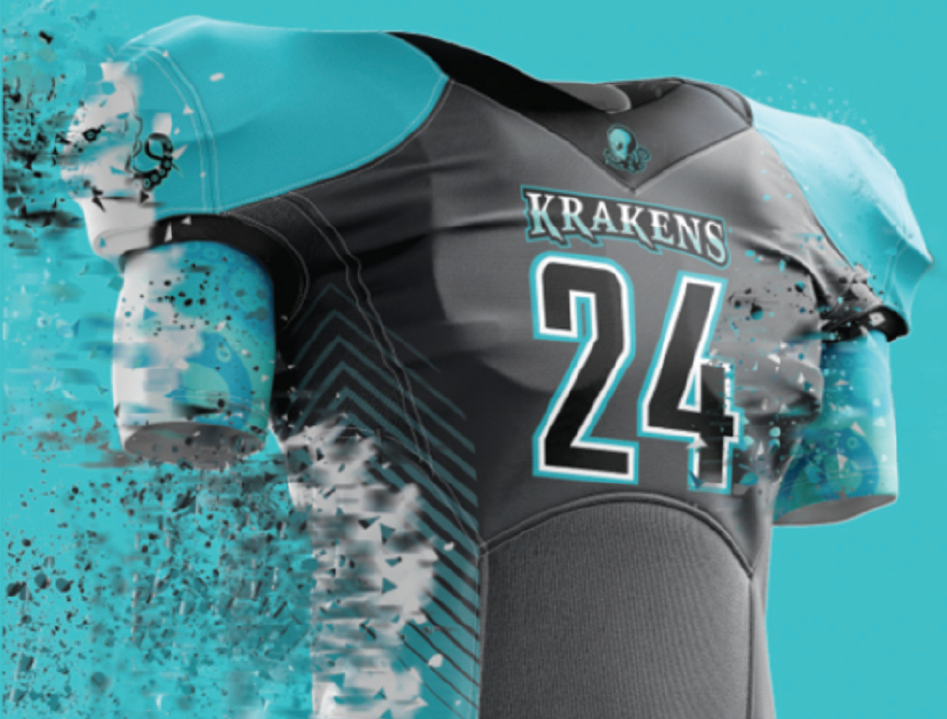 Features: The 3D Builder is custom to each dealer — a true custom private label builder allowing large and small companies alike to have a fully custom builder branded to themselves. Builder is also custom to each sales rep within the organization and a management function allows senior staff to monitor usage, order and approval statuses.
Recent Upgrades: The 3D Builder was just launched so it is all new.
Future Upgrades: Plans are to make it a fully integrated marketing platform for dealers to do presentations and orders.
Outdoor Cap (OC Sports)
https://team.outdoorcap.com/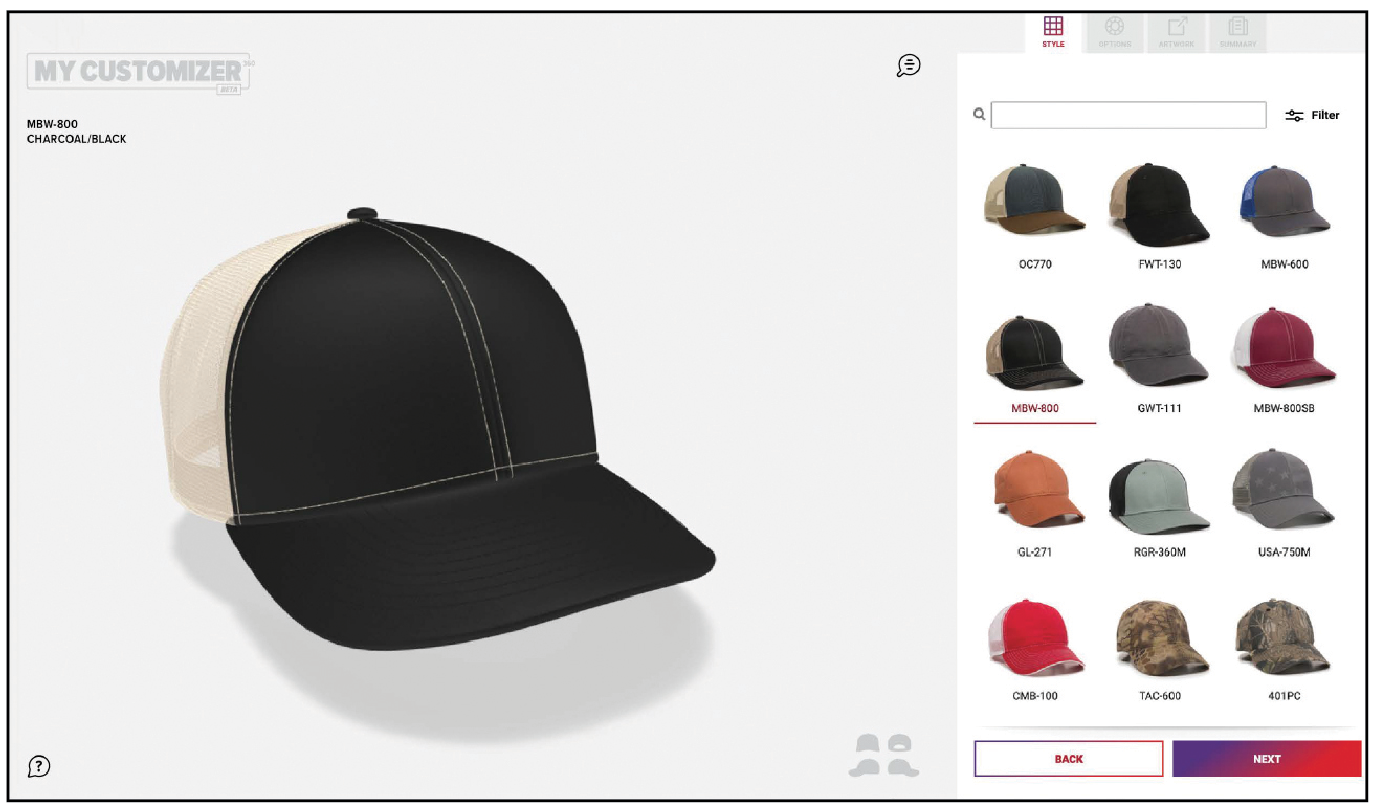 Features: 360-degree photorealistic cap decoration. Choose styles, colors and sizes and decorate front, sides and back with stock letters or custom logos and see them wrapped around the product in 3D. Add text or team numbers to the sides and back. Dealers can get a design emailed to them and start an order. The design library is accessible through their account on team.outdoorcap.com
Recent Upgrades:This is a brand new tool that will be accessible but in Beta for most of 2020.
Future Upgrades: We will expand our style count to cover all of our stock and custom styles and decoration techniques. We'll be listening closely to customer feedback to enable a fully digital custom headwear ordering experience.
Powers
www.powerscustomuniforms.com/account/login?returnurl=%2f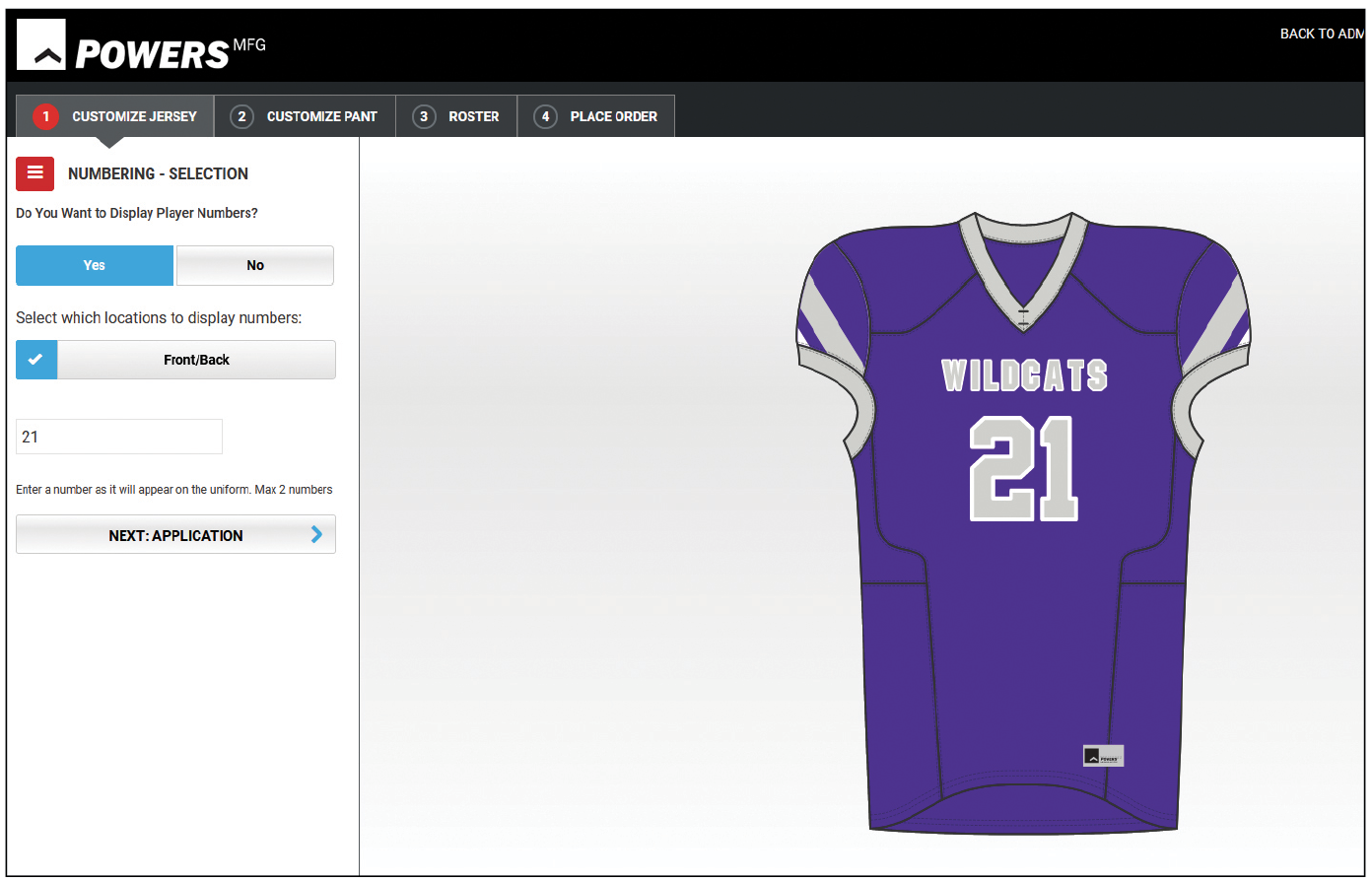 Features: Our builder has the ability to apply team names in a variety of fonts, sizes, colors and arrangements. Numbers can be added in a variety of fonts, colors and sizes. Custom logos can be uploaded to complete a uniform design specific for every team. Sizing and number information can be added and an order can completely be ordered directly from the builder.
Pukka
https://hatcustomizer.pukkainc.com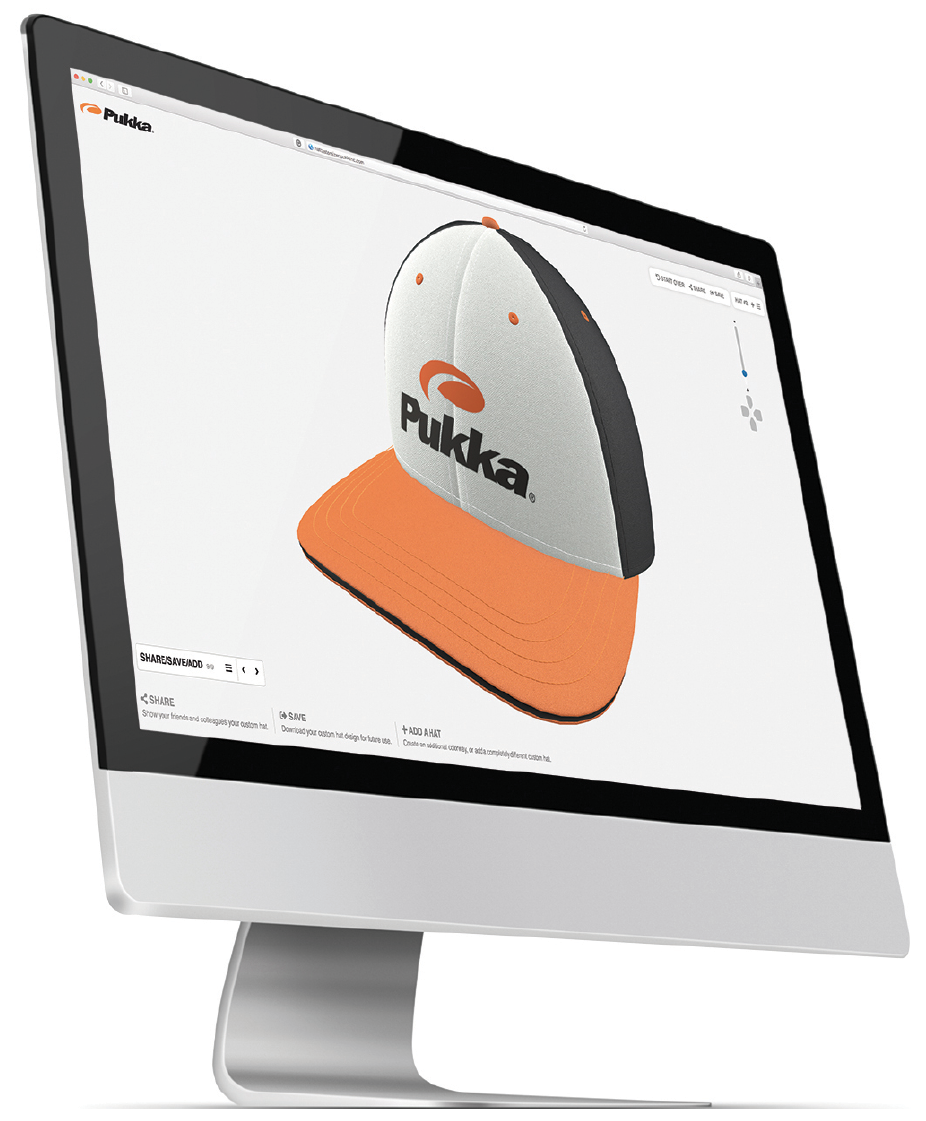 Features: Pukka's online hat customizer allows the user to build their fully custom hat from scratch in real time. The ability to change every color, every fabric, every stitch in 3D with zoom and full 360-degree really gives the user the full design experience.
Recent Upgrades: We recently launched version 2.0, which includes enhanced user controls, the ability to add multiple hats to explore numerous different design combinations as well as the functionality to share the design via Facebook, Twitter or LinkedIn.
Future Upgrades: We have only scratched the surface of the over 144 billion different options we offer. The next version will include knits, new hat silhouettes and additional features available within our program.
Rawlings
https://mylocker.rawlings.com/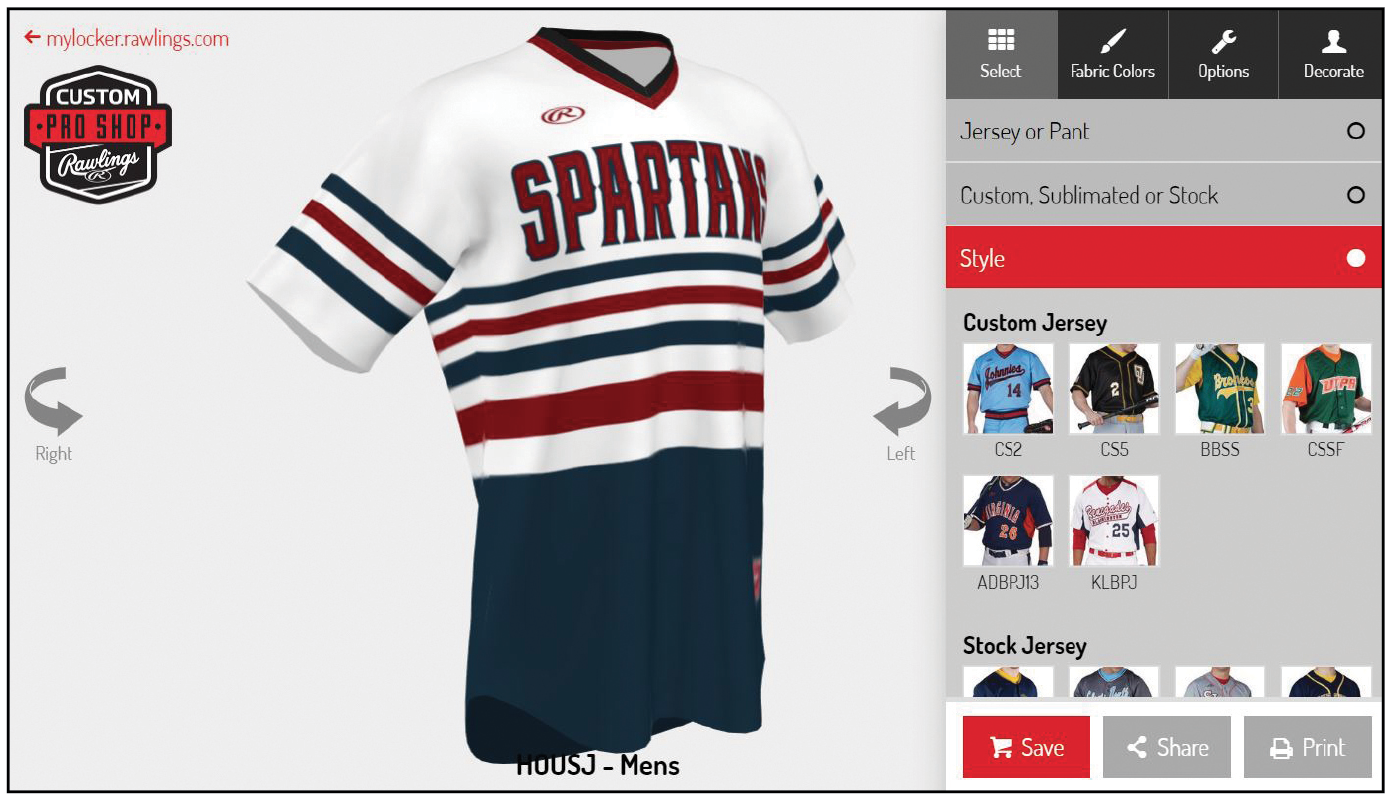 Features: The Rawlings Uniform Builder offers a 3D visualization of our jerseys and pants with dynamic renderings of colors, names and logos. The interface is user-friendly and responsive in terms of design and is built to allow for integration with other platforms/partners.
Recent Upgrades: Our new product offerings include two-button and full-button options for our sublimated baseballs/softball styles. For football designs we've added a series of sublimated jerseys that includes sleeve and sleeveless models. We've introduced new font and logo options as well.
Future Upgrades: We plan to introduce a selector tool to allow for an easy, targeted way to find the right uniform. Another goal is to update the user interface to continually enhance the mobile/tablet user experience. We hope to add more custom offerings including fabric types, sizing and placement options.
Under Armour
team.underarmour.com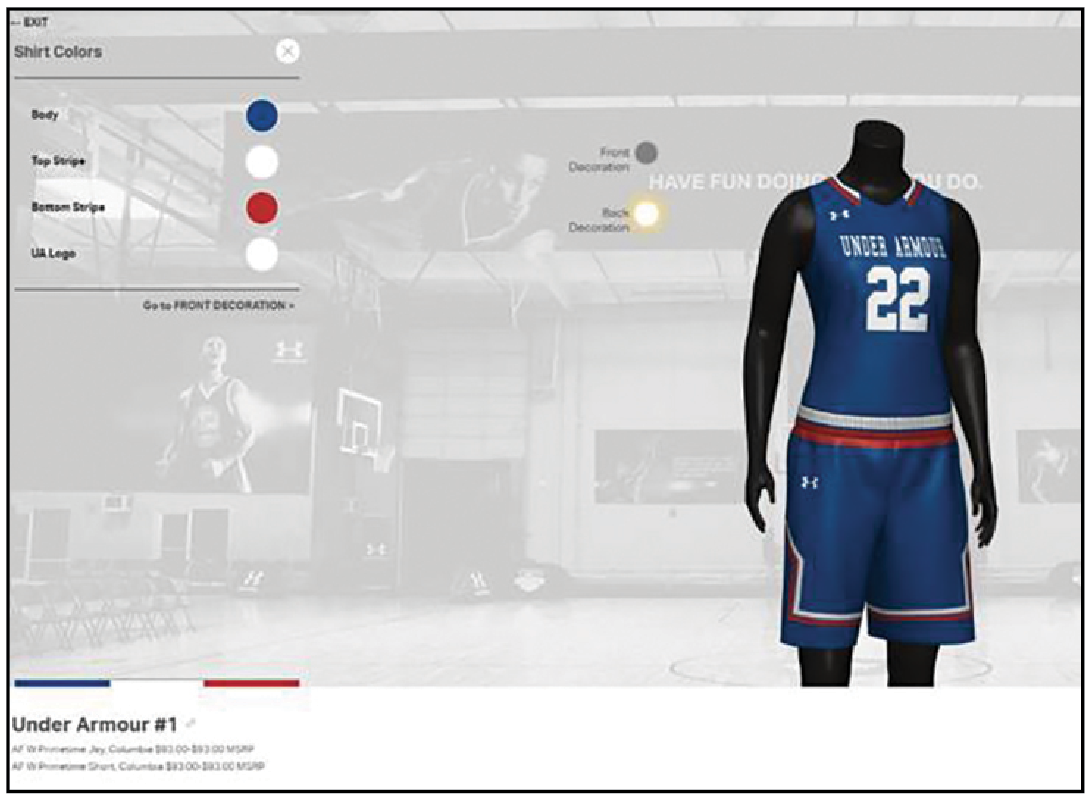 Features: Under Armour's new uniform builder allows users to build and visualize a custom uniform in real time on a 360-degree 3D model. By selecting the team colors the uniform will automatically populate a base design, for either inspiration or a design starting point. All catalog options for decoration and customization are available, in addition to custom artwork.
Recent Upgrades: Users are able to build and share designs with others for collaboration. We also added the ability to mix and match uniforms across custom, stock and Armourfuse sublimation to ensure accurate visualization.
Future Upgrades: Sharing via social media to enable voting and promoting a team's look. Custom font upload, which allows a user to upload any font file that will be visualized and produced, expanding the options for looks from what is in the catalog. One click home and away functionality, which will carry over all of custom font and logos and switch the color pallet from white to color or color to white.